Well gosh darn jolly hockey sticks old chap! Here comes a brilliant British Oscar contender that isn't falling over itself to be as pompous as possible. Many commentators have decried the influx of clichéd white male genius biopics at Oscar season which may not really deserve to be there. (But they're British! And they're about white male geniuses! So of course they're going to be there – have you learnt nothing about the demographic of Academy voters?) But unlike the overrated The Imitation Game, The Theory of Everything is, well, EVERYTHING. This is the first biopic in yonks that is utterly compelling and heart-wrenching. And Eddie Redmayne deserves every award he gets.
Diagnosed with motor neurone disease (ALS) at the age of twenty-one, Stephen Hawking (Redmayne) was given just two years to live. Defying all odds, he went on to become one of the most well-renowned astrophysicists of all time, and is still alive today, aged 73. Shortly after his diagnosis he married his university sweetheart, Jane (Felicity Jones), who demonstrated her fierce love and care throughout his continuing physical deterioration.
Whilst time is certainly devoted to Hawking's academic achievements, The Theory of Everything is concerned primarily with the relationship between Stephen and Jane. Diehard nerds may feel the science is lacking, but for general audiences, a nice balance is struck. In this respect The Theory of Everything soars above The Imitation Game, which focused too much on coding at the expense of rushing through personal tragedy.  Anthony McCarten has adapted a wonderful screenplay from Jane's biography, Travelling to Infinity, My Life with Stephen, utilising concise dialogue and clever innuendo. While this is obviously necessary for the character of Stephen, this extends to all other players. Long-winded preachy monologues are thankfully absent. Director James Marsh, whose previous work has mostly consisted of documentaries, lets us linger on facial expressions, and has drawn some remarkable performances from his actors.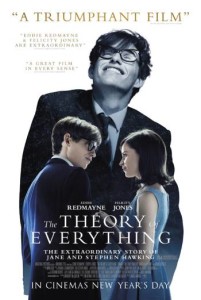 Eddie Redmayne deserves the Oscar. Having won both the Golden Globe and the Screen Actors Guild Award, he has seemingly surpassed Michael Keaton (Birdman) as the hot favourite for Best Actor. It may be clichéd for an actor to win for representing a character with a disability, but there's a reason why such performances are rewarded so often – they're hella impressive! His commitment to the role reportedly resulted in an alteration of the alignment of his spine and if that isn't commitment to your art, I don't know what is. But if you're still not impressed, it is worth mentioning that the film wasn't made in chronological order, making his performance all the more worthy of respect given the varying levels of physical disability he was required to demonstrate. The real Stephen Hawking has also said that while watching Redmayne's performance he thought he was watching himself. So go stick that in your toffy pipe and smoke it.
Felicity Jones (nominated for Best Actress) is a gem. Though the hoity-toity English accent does grate a little and Jane's hairstyles become more and more heinous as the years go by, she is utterly mesmerising, and is cementing herself as one of the best young actresses around. Credit is due to the casting department who decided to cast young actors in the roles of Stephen and Jane. Though the film spans thirty years it seems imperative to capture the true essence of youth in their early courting days. A host of familiar faces show up in supporting roles, and it was a delight to find that every single character was ridiculously likeable. That's not to say that the film's characters were shown to be without flaws (on the contrary), but the absence of any antagonists was surprisingly satisfying. In particular, Stephen's friend and roommate Brian (Harry Lloyd) was heart-flutteringly charming. Perhaps The Theory of Everything presents a romanticised version of events in this respect, but it works.
Those assuming that The Theory of Everything was going to be a pretentious load of wank (this reviewer included) had their reasons, given how accustomed we have become to such clichéd and overhyped film releases at this time of year. Thankfully, they were wrong. Viewers are unlikely to leave this extraordinary film unmoved because The Theory of Everything is everything. Do not miss it.
The Theory of Everything is in Australian cinemas from January 29 through Universal Pictures.