Birdman or (The Unexpected Virtue of Ignorance) is a visceral, voracious film. Director Alejandro González Iñárritu, who wrote the screenplay along with Nicolás Giacobone, Alexander Dinelaris, Jr. and Armando Bo, has crafted a film is engaging on all levels, one that can barely restrain its own potent swirling jumble of ideas, emotions and tones. Set in the hectic Broadway theatre scene, the film is visually distinct for looking as though it was shot in one continuous take, and follows a struggling actor (Michael Keaton) as he tries to successfully stage a play. The film's elements are individually impressive – the raw performances, the thematically multi-layered screenplay, the intense score. But in the end it is the sheer skill in which all of these components interconnect that makes it an incredibly rewarding viewing experience.
Riggan Thomson's (Keaton) career has stalled, and he is desperate to resurrect it. Once famous for playing superhero 'Birdman' more than two decades ago, he is now putting everything on the line to write, direct and star in a Broadway adaptation of Raymond Carver's short story 'What We Talk When We Talk About Love'. However, in the lead up to opening night he encounters several obstacles, the least of which are financial troubles. Sam (Emma Stone) is working as his personal assistant, but as a recovering drug addict she's got her own problems. He hires Mike Shiner (Edward Norton) to join the cast, but is unable to control his moods. And finally he is trying to fend off his own crippling self-doubt, compounded by the lingering threat of negative reviews from a top theatre critic. The film is a series of incidents that are amusing, tense, awkward and a whole range of other emotions, all of which are engrossing.
The audience's attention is maintained through the highly choreographed camerawork by cinematographer Emmanuel Lubezki. As the camera winds through the meandering backstage corridors and around the brightly lit stage, the conversations between characters seamlessly blend into one another, carefully planned yet appearing to unfold organically. The drum-pounding score complements this, seemingly erratic in its rhythms but nevertheless providing an irresistible momentum to the narrative. The effect is almost claustrophobically intimate, as boundaries between backstage and onstage, and between actor and character, dissolve.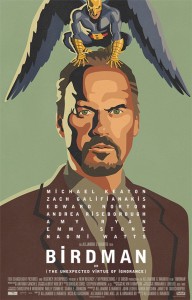 The performances, like the camerawork, are perfectly timed and executed. Stone's large eyes and expressive features become contorted when she lashes out in an explosive scene of rebuke, and Norton deftly conveys a pretentiousness that only barely conceals the ironic disconnect between his self-proclaimed sincerity on stage but lack thereof in real life. But in the end the film is a showcase for Keaton. Much has been made of the parallels between Keaton's career trajectory and that of Riggan Thomson, but he manages to transcend this initial superficiality. Through him additional lines are blurred, between tragedy and comedy, between low and high art, and between reality and fantasy. The idea of artistic creation as intertwined with self-destruction is central to the film, and Keaton embodies this conflict and contradiction with captivating aplomb.
Ultimately, Birdman is a highly accomplished film on all levels. It is, quite simply, superb.
Birdman is in Australian cinemas from 15 January through 20th Century Fox.