"Sometimes it is the people no-one imagines anything of who do the things no-one can imagine."
Thus is the theme for director Morten Tyldum's The Imitation Game, documenting the struggles of Alan Turing – a mathematician and logician whose efforts in World War II are estimated by some historians to have contributed in shortening the War by between two and four years. Not only that, but Turing's ground-breaking research and development through the 1930s, 40s and early 50s now forms the basis for modern computational theory. An eccentric yet evasive figure with little tact – possibly autistic – Turing's was a type of genius well before its time.
This delay has been due to a number of reasons. Turing was part of a group of England's foremost minds in problem-solving, tasked with breaking the German Enigma code, which rendered every Nazi radio message seemingly indecipherable. These were easily intercepted at Bletchley Park (then the Government Code and Cypher School), but it was Turing who recognised that it would require something more than human problem-solving to break a machine's logic.
However, Turing's big challenge was not only solving the Enigma puzzle. As had been the case since childhood, reading people was the bigger puzzle, and working as part of a team was not one of his strengths. The claustrophobic atmosphere of Bletchley Park also threatened to unearth a secret that would ultimately, and unjustly due to the abhorrent laws of the day, be his downfall: his homosexuality.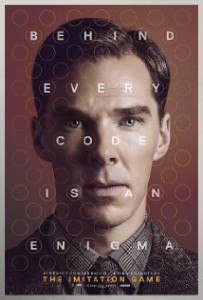 This story is the stuff of fiction, and yet it is all the more fascinating for having been true – albeit presumably with some creative licence from Graham Moore, deftly adapting his screenplay from a book by Andrew Hodges.
However, one suspects that much of the credit will go to Benedict Cumberbatch. He is truly magnetic as the reclusive genius, and truly deserves an Oscar nomination. Things really couldn't be going any better for Cumberbatch at the moment, could they? After proving his credentials in every medium and even getting engaged, an Oscar-winning performance really would cap off a few dream years. But to say the movie's prowess ends here is misleading.
Keira Knightley, Charles Dance, Matthew Goode and Mark Strong all make up what is a stellar, very well-drawn and perfectly British ensemble, Knightley and Goode in particular. A healthy injection of humour, particularly from Strong's wry intelligence chief, also helps to project the community atmosphere that Bletchley Park must have bred in those long months enclosed in secrecy. However, at no stage is this cheer overemphasised as to eclipse the immense stakes with which they are dealing – or the weighty compromises each individual is making.
Tyldum has certainly been brave to intertwine timelines of Turing's postwar travails and the team's pursuit of Enigma at Bletchley Park, but for the whole, it is a seamless transition, aided by a fitting score from Alexandre Desplat. Moreover, it is a bittersweet demonstration that it's alright not to be 'normal'.
The Imitation Game is in Australian cinemas from 1 January through Roadshow Films.