A few years have passed since the Battle of the Smithsonian and Larry Daley (Ben Stiller) is successfully disguising his wax figures coming to life as an entertaining special effects show. However, when the exhibits start behaving strangely all suspicion points to the decay of the tablet of Ahkmenrah and the tomb in which it was found. To prevent the magic of the tablet from disappearing, Larry must travel to London's British Museum with his Son and some familiar companions, to find out the cause.
Ideally, Secret of the Tomb could have been a satisfying end to the Night at the Museum trilogy. However difficult a successful trilogy is to achieve, elements in this film hint to a potential third time charm, but unfortunately aren't prominent enough to alleviate some recurring weaker aspects. Stronger moments include creating an exciting back-story to the discovery of the tablet of Ahkmenrah, the introduction of new characters, and even tempting an ending without the possibility of a sequel. These are not necessarily new ideas, but they feel different and have more promise against a sequel heavy film landscape. They become discarded amongst a predictable climax, reoccurring gags and an inane dance number to close the film.
There isn't an incredible amount of excitement from the performances in Secret of the Tomb, with the most consistent and humorous role coming from Ricky Gervais as the ignorant, but sweet Museum Director. Some new faces such as Sir Lancelot (Dan Stevens) and Merenkahre (Ben Kingsley) provide small amusement as they adjust to their restoration. A highlight includes Sir Lancelot's confusion over a stage play of 'Camelot' and his run in with a memorable homegrown cameo.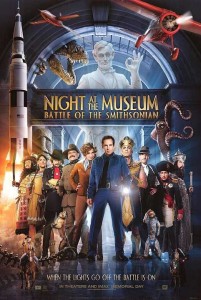 Keeping in mind the returning cast involved in the Night at the Museum series, are Stiller, Steve Coogan, Owen Wilson, and Robin Williams. It's sad and understandable that some of these actors are perhaps no longer having as much fun as they once were. The biggest pity being that the film was not only at the end of Mickey Rooney's career (reprising his role as Gus), but the last on screen performance from Robin Williams. During some of the more tender moments of the film, most of which occur between Teddy Roosevelt (Williams) and Larry, emotion is not only lacking, but fleeting as well.
Directed by Shawn Levy, who also directed the other two Museum instalments, the feeling of repetition not only wears off on the audience, but also clearly extended to the cast and crew. Secret of the Tomb may be a kid's film, but one that should be creative, fun and maybe even inspiring. These components are only marginally represented in the finished film. Coupled with a substandard narrative, Secret of the Tomb does not bring the trilogy to a satisfactory conclusion.
Night at the Museum: Secret of the Tomb is in Australian cinemas from 26 December through 20th Century Fox