This year's obligatory Boxing Day animated release is Disney's Big Hero 6, based on the Marvel comic of the same name. Upping the cute factor, Directors Don Hall and Chris Williams (Winnie the Pooh and Bolt, respectively) have delivered us a kid-friendly adaptation of its source material, while still pulling on the heartstrings of its older audience members.
Although not part of the Marvel Cinematic Universe, Big Hero 6 may act as an age-appropriate gateway for younger audiences to begin their superhero fandom. Young robotics prodigy Hiro Hamada (voiced by Ryan Potter) joins forces with inflatable robot Baymax (Scott Adsit) to create a team of superheroes intent on bringing down a mystery villain. This is Avengers-Lite, and their superpowers aren't quite as cool (unless we're comparing them to Hawkeye). But for its intended audience, it will certainly do.
A wonderful bunch of characters has been assembled, with Disney's first biracial protagonist, Hiro, at its centre. He is a brilliant but imperfect kid, and his relationship with Baymax is nothing short of heart-warming. Though the idea of an intimate friendship between a child and his robot might be a tad bizarre, anything is possible in the world of Disney (and may even act as a premonition for the future of our own). Baymax is visually plain – he has no facial expression and is essentially a big white blob – and yet he is the source of much amusement. Modelled on baby penguins, his movements frequently had the audience in stitches, and it was a welcome relief that the film didn't choose to rely on fat jokes. Hiro's friends verged on stereotypes, but were entertaining, nevertheless. As for the villains – we've seen better, but they weren't the focus here.
Set in 'San Fransokyo' – a mesh of San Francisco and Tokyo – Big Hero 6 is a visual feast and there's barely enough time to fully appreciate the delightful imagery. The 3D beautifully enhances the city, although it probably isn't necessary to pay the extra for this perk. It is somewhat disappointing that Hiro's racial identify is barely visible in his configuration, although perhaps the animators should be commended for not sticking to a clichéd Asian appearance.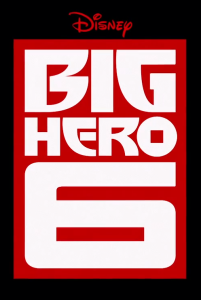 Despite being aimed at the young'uns, Big Hero 6 does include its fair share of dark moments, but parents should not let this turn them off taking the kiddies. If your child has ever seen a Disney animated film then they should be prepared (can you even think of one protagonist in a Walt Disney Studios film that has all immediate relatives still living?). If anything, it will be the adults in the audience more likely to be shedding tears at multiple points during the film. Big Hero 6 does a beautiful job of dealing with the subject of grief, and is perhaps the most affecting Walt Disney animation since The Lion King. Will this be this generation's Bambi? Try not to choke on your tears.
In terms of originality and entertainment value, Big Hero 6 is no Frozen or The Lego Movie, unless perhaps you're a comic book devotee (and those fans should most definitely stay for the end credits). With seven individuals credited as writers for the film – led by Jordan Roberts, Daniel Gerson and Robert L. Baird – it is a wonder why the screenplay isn't better. The superhero element is not overly strong, and older viewers may become tiresome of the routine superhero sequences in the film's latter stages. Nevertheless, for its intended audience it is likely to appeal, and we can expect sales of Baymax toys to rival those of Elsa dolls (and they will certainly be more huggable than that twig of a princess). Despite its flaws, there is no denying that the take home message in Big Hero 6 is a beaut one. It may not have the action of the true Marvel films, but it certainly has more heart.
Big Hero 6 is in Australian cinemas from 26 December through Disney Films.