In his biography of the early nineteenth century painter J.M.W. Turner acclaimed filmmaker Mike Leigh not only crafts a rich and textured portrayal of the last twenty five years of the artist's life, but also presents a thoughtful and considered examination of what it means to be an artist.
The film's plot functions simply to follow the brash and abrasive Turner through his last years. It gives an account of his relationship with his father; their housekeeper with whom he has an affair with; his illegitimate family; his mingling with the rich patrons who finance his work, and finally the widow he comes to love in his twilight. Unlike typical bio-pics which would generally focus on particularly important events in their protagonist's life, Leigh (who also wrote the film) is more interested in presenting a window through which the audience can view the character as he goes about his everyday business. With a 2 ½ hour running time, a lesser film would run into the serious possibility of inspiring boredom, but the subject matter is never dull and nor is Leigh's treatment of it.
As the title character, Leigh regular Timothy Spall inhabits his role entirely and deservedly won the Best Actor award at the Cannes Film Festival earlier this year. He plays him as a man of endless contradictions, at once brash and gentlemanly; loving and seemingly heartless, but always eccentric. It is, needless to say, one of the great cinematic performances that once seen, will not be forgotten.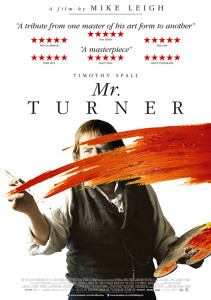 The film's widescreen cinematography beautifully echoes the landscapes of Turner's own work as an artist, while never being deliberately showy about it. Dick Pope's camera is equally adept at capturing the Dickensian England of the period, so that the rolling country hills and seaside vistas that Turner visits on his many journeys throughout the film are given equal attention to the house and studio that he inhabits. It is a breathtakingly beautiful film, all the more satisfying for its subtlety.
It is, above all else, Leigh's testament to the life of the artist. At 71 years of age (Turner himself died at 76) and having made films for the last 43 years, it feels as though Leigh as reflecting on what it means to create and then to have your work critiqued by others, especially as we see Turner first celebrated by his peers and public, only to later be equally ridiculed later. The film is perhaps his most personal work. He wears his heart on his sleeve for all to see and thankfully it is cause for celebration.
Featuring one of the best performances of the year, Mr. Turner is also one of the best films of the year and cannot be recommended enough.
Mr Turner is in Australian cinemas from 26 December through Transmission Films.