Set around the Christmas season, The Holiday follows the life of Iris (Kate Winslet), a romantically struggling journalist, and Amanda (Cameron Diaz), another character with guy-problems. In England, Iris is having trouble with unrequited love with her sly colleague, Jasper Bloom (Rufus Sewell). Over in Los Angeles, Amanda has just split up with her boyfriend, Ethan (Edward Burns), after she discovers he has been unfaithful. Their paths cross when they decide to swap homes and countries for the holiday break, where they both fall for a local guy.
Although the plot has banal written all over it, beneath its Hollywood varnish, The Holiday is a rare Christmas film about loneliness and belonging. With an all-star cast, director/writer Nancy Meyers once again tackles the rom-com genre with a clichéd and hearty approach.
The film simply works because of the chemistry between the characters. Cameron Diaz and Jude Law are completely believable, while Kate Winslet is a fitting match with Jack Black, who supplies plenty of laughs like always. The late Eli Wallach also does well as the retired screenwriter and catalyst in Iris' personal transformation.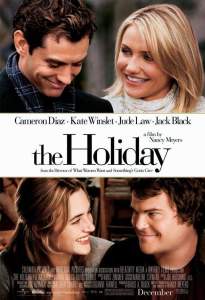 Although Christmas is not the central focus of the film, Meyers cleverly uses it to highlight the loneliness of the characters. In such a time of friendship, sharing and merriment, Iris, Amanda, Graham and Miles are all characters void of, and searching for, love and belonging. Despite having a fairy-tale ending, Meyer's characters are very easy to symphasise with, making their eventual happiness a pleasant and entertaining watch. Hans Zimmer's brilliant score truly carries some of the more tender scenes in the film, emphasising the heartache of the main characters; however, his score cannot save the overly sentimental and cheesy moments. There is also much to appreciate in the setting of the film. The decrepit yet cozy London countryside cottage that Amanda stays in is a wonderful snowy location to get you in the mood for a white Christmas. Similarly, Iris' stay at Amanda's luxury mansion, complete with a swimming pool, automatic blinds and DVD library, is also fitting for the Christmas season, surrounded by the busy liveliness of Los Angeles.
The Holiday has nothing new to offer to the rom-com genre. It's predictable, occasionally sappy and formulaic. But ultimately, this is a great film to watch before Christmas. It's light-hearted, entertaining and has several strong comedic moments. The acting is top-notch, with well-written and likable characters. The Holiday is a perfect watch for the holiday season.