Christmas can often be about family, although not necessarily one's own family. Christmas is often about meeting the in-laws for the first time. The Family Stone is one such story. Written and directed by Thomas Bezucha, this movie is a little bit screw-ball, a little bit romantic-comedy: a classic 'fish-out-of water' tale. But while the formula is common enough, this film gets it right. The characters are warm and engaging, and yet they are all prickly at times, with their share of flaws and foibles.
The Family Stone is the story of Everett, Dermot Mulroney, and Meredith, Sarah Jessica Parker. They are based in New York; both are professional/ executive types: smart, cool and successful. Meredith is quite uptight, a quality which is visualized in her tight bun, not a hair out of place (as her hair unravels, so does she). Everett has taken Meredith, the girlfriend he is planning to marry, home for Christmas to meet his family.
Arriving at Everett's family home, we meet the Stone family. Quirky, eccentric and a little bit bohemian, the Stone's are not what Meredith is expecting. And certainly not what she can handle, despite her well-honed armory of 'fail-safe' social strategies. The Stone's are very tight – making it hard for newcomer Meredith to ingratiate herself into the fold.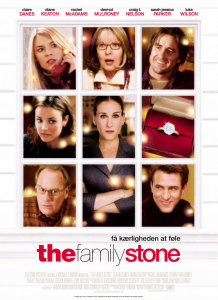 Everett's mum Sybil (a long-time favorite, Diane Keaton) is the mother-in-law we both fear and long for, the lioness; uncompromising yet loving, smart and ferociously protective of her cubs. Everett's two sisters are equal parts of their mother: Susannah kind and generous, Amy not suffering fools gladly. The father Stone, Kelly, is an academic. He is low-key and has the ear of all his kids. Brothers Ben and Thad take after their dad, Ben being especially laid-back.
Struggling under the pressure of the family seemingly united against her and covered in egg, Meredith abandons the Stone family home for the local hotel, and enlists the help of her sister Julie, Claire Danes. Julie arrives by bus to support Meredith, and a small amount of chaos ensues. Meredith is feeling alienated and Ben, taking her out for a drink, gets her to unwind. Everett, thinking Meredith is missing, enlists Julie to help with his search but discovers something he wasn't expecting in the process.
We are endeared to the family Stone, to Meredith and Julie, as we share in the process of their acceptance of themselves and each other. As a Christmas films go, this is a good alternative to Love Actually and The Holiday, bringing a classical Hollywood feel. A great cast goes a long way in making this film a nice way to get into the spirit of Christmas.