There is a scene near the start of Die Hard where John McClane's (Bruce Willis) limo driver Argyle starts playing some rap music. Being Christmas Eve, John asks "How 'bout some Christmas music?" To which Argyle emphatically replies "That is Christmas music!" And sure enough Run D.M.C.'s "Christmas in Hollis" is blaring out of the car as they make their way to the Nakatomi Plaza building in L.A., where John hopes to reunite with his estranged wife Holly (Bonnie Bedelia). And whilst the film's score infuses snippets of recognizable Christmas tunes throughout, this is the first indication that this will be not be your run-of-the-mill Christmas movie – no Santa Claus, no presents, no Tim Allen. Instead, this will be a badass, action-packed film, which just happens to be set during Christmas.
Directed by John McTiernan, Die Hard is, by all accounts, a bona fide action classic. It pioneered the formula of the wise cracking guy (equipped with street smarts and a repertoire of hilarious one-liners) up against a gang of (usually foreign) bad guys and seemingly insurmountable odds, and filled with thrilling action set pieces along the way. Unsurprisingly, it spawned several sequels and inspired countless other imitators in its wake, none of which have been able to surpass or better it. And, most importantly, it is eminently re-watchable.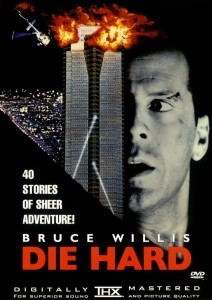 Undeniably, a large part of the film's appeal comes from its performances. Willis is pitch perfect as the smartass, resilient everyman, whose indignant incredulity at the incompetence of the LAPD is matched by his flair for delivering well-timed insults. Alan Rickman is correspondingly impeccable as Hans Gruber, the mastermind and leader of the German terrorists. He delivers his dry sense of humour with the same measured, grave intonation that would make his Professor Snape from the Harry Potter series so delightful, and he is fantastic in embodying the patient, cultured coolness that contrasts with Willis' brash, brazen cockiness.
However, the film's performances would not have been as memorable without its screenplay, penned by Steven E. de Souza and Jeb Stuart and based on Roderick Thorp's novel 'Nothing Lasts Forever'. Equally responsible for the film's success, it contained countless quotable lines, including the now famous "Yippee-ki-yay, mother**ker!", first exclaimed by Willis and later, quizzically deadpanned by Rickman. It even manages to incorporate well-known Christmas references with a characteristic comical twist, such as "'Twas the night before Christmas, and all through the house, not a creature was stirring, except … the four assholes coming in the rear in standard two-by-two cover formation." And by the end, the film still affirms that Christmas is really about appreciating and spending time with those nearest and dearest to you, albeit with trail of bloodied bodies left behind.
So if you're looking for an action-packed antidote to the seemingly endless stream of vanilla Christmas films that inundate TV schedules at the end of the year, look no further than Die Hard.