Folies Bergere is the kind of film that so rarely gets held to account by its critics. It's a pleasant middle aged comedy, the type of which that has been made dozens of time both in its native France and abroad. Technically, it is well produced and features uniformly fine performances from its entire cast. But ultimately it trades on the goodwill of an undemanding audience and extends its slight material until it finally meanders into a juvenile discussion of one of its key themes of fidelity. Worse than just a disappointment, it is a boring one at a mere 98 minutes of running time.
The plot concerns a bored house wife, Brigitte (Isabelle Huppert), who lives and works on a farm with her husband Xavier (Jean-Pierre Darroussin). While their marriage is going through a rut, a group of teenagers from Paris arrive for a party in a neighboring cottage. One of them is Stan (Pio Marmai) who is immediately attracted to Brigitte. They drink and dance until her better judgment shows up and she leaves. Regretful however, she decides to travel to Paris to find Stan under the guise of telling her husband she's going for a doctor's appointment. Naturally Stan isn't all she thought he was and she winds up instead being pursued by an also middle aged Swedish dentist, Jesper (Michael Nyqvist), while her husband uncovers her rouse and travels to Paris to find her.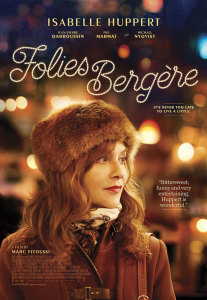 The story, as written by director Marc Fitoussi and Sylvie Dauvillier, isn't so much an unfolding narrative as a bunch of events that just happen. When done well this type of plotting can be enthralling and exciting, but because it consists entirely of the standard clichés that one would expect from this type of film, it is neither. Worse yet, it becomes particularly thoughtless and immature when considering the couple's lengthy marriage – apparently fidelity cannot practically be sustained in such a long relationship, at least that's what the filmmakers seem to be saying based on it not occurring at all to the main characters.
Despite the material, as one would expect from an actress of Isabelle Huppert's pedigree, she is particularly fine in the main role. She finds emotional nuisances that are much needed to help sympathize with such an otherwise poorly developed character. Darroussin is also strong as the husband, and Marmai and Nyqvist are alternately charming and strong as their characters demand.
For an undemanding audience, Folies Bergere is at the very least a pleasant enough experience; unfortunately though, that doesn't make it a particularly very good one.
Foiles Bergere is in Australian cinemas from 11 December through Palace Films.