Following Mark Hartley's remake of Patrick last year, Turkey Shoot continues the current re-imaginings of the series of Ozploitation cult classics produced by Antony I. Ginnane from the late seventies into the eighties. Like Hartley's film, co-writer/director Jon Hewitt's reboot of Turkey Shoot is a mostly successful, if somewhat flawed, rendition which should at the very least please genre fans.
Like Brian Trenchard-Smith's earlier film of the same name, Turkey Shoot is set in a dystopian world where people are hunted for sport, but there the similarities mostly end. Instead, with its game show format, the film seems to more echo the Schwarzenegger action vehicle The Running Man, which also followed a similar story (all of which are essentially variations of the classic film The Most Dangrerous Game). This film centers on a wrongfully imprisoned Navy SEAL, played by Dominic Purcell, who is offered the chance to win his freedom by participating in a game show where he's placed up against some of the world's most dangerous killers and expert hunters.  The games producers get more than they bargained for when he uses it as an opportunity to proof his innocence.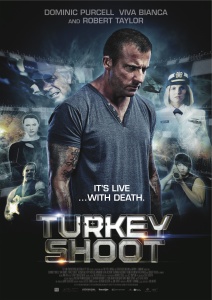 The story (which Hewitt wrote with Belinda McClory who also co-stars) is essentially that of any stock-standard wrong man action film from the eighties or nineties, but they do manage to weave some unexpected twist and turns into it which elevate it nicely from an otherwise outdated model. The action is extremely well handled by Hewitt who does wonders with what was apparently an extremely low budget for the scale on the screen.  He also mixes up every segment of the game show so that multiple locales are utilized and made full advantage of, particularly a tense hunt through a shipping yard.
Less successful is the performance of Purcell. It's hard to think of an action star with less charisma as he grunts and moans with his limited range of expressions throughout the film. It's particularly apparent in contrast to his leading lady Viva Bianca who has natural charisma to spare and offers a very real sense of conviction to her character. If for no other reason though, the film should be seen for a brief cameo from the iconic star of the original film, Roger Ward, whose appearance deservedly drew cheers from the audience at the film's MIFF premiere.
Despite its shortcomings, Turkey Shoot is never less than entertaining and shouldn't disappoint fans of the original, even if it doesn't quite have that film's inventiveness or chaotic insanity.
Turkey Shoot is in selected Australian cinemas from 4 December through Potential Films.