You know when you have one of those bad days? One where everything seems to go wrong no matter what you do? Well, this is the turmoil that ensues in Alexander Cooper's (Ed Oxenbould) life. Alexander believes he has never had a good day, emphasised by the fact that he has a winning older Brother Anthony (Dylan Minnette), a talented sister Emily (Kerris Dorsey), a workaholic Mother (Jennifer Garner) and an over-occupied Father (Steve Carrell), looking after his baby brother Trevor. Convinced of his own misfortune; Alexander finds no pity from his family, until they too find themselves having their own miserable day.
Alexander and the Terrible, Horrible, No Good, Very Bad Day is based on a children's book written by Judith Viorst, that bares little resemblance to Disney's adaptation directed by Miguel Arteta. While the book focuses on Alexander, the film tries to incorporate other family members into the mix, drawing out the original plot and wearing the theme a little thin. Admittedly character and plot expansion were needed for a film adaptation, but Alexander's personal story turns into a wacky family trying to keep it together on a shared unfortunate day. A familiar experience we've shared with the Griswold's, Tenenbaum's, Focker's and Corleone's before.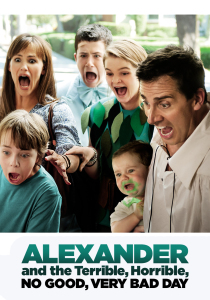 With little original substance to work with, performances in Alexander make for a reasonably convincing family unit. Carrell plays a recognisable role of the likeable, but inexperienced hands on Father looking for new employment. Garner's stress in trying to find a balance between pleasing her boss and satisfying her role as a Mother come across as blunt, but convincing enough. Minnette and Dorsey have developed that shared selfish companionship that older siblings have. An honourable mention must be made to Ed Oxenbould, whose authenticity eases much of the films weaker aspects and somehow manages to successfully incorporate the films title into a sentence.
There are a few chuckles to be had in Alexander; however noticeable they are, and choosing to go along with it could prove difficult for some. Attempting to feel natural by grounding the humour in plausible incidents, it's more convenience, than coincidence steering the scenario. From this, comparisons can be made with the TV series Modern Family, whose plots' are occasionally exaggerated, but still manage to feel more relatable. Perhaps an unfair comparison, but one that can't be ignored considering how well Modern Family is praised, mainly for its acting, humour and writing. This is precisely the mark Alexander attempts, yet fails in many ways, to encompass.
Alexander and the Terrible, Horrible, No Good, Very Bad Day is in Australian Cinemas from December 4 through Disney