The combination of Hollywood darlings Jennifer Lawrence and Bradley Cooper seems like a sure-fire recipe for success. They lit up the big screen in previous collaborations Silver Linings Playbook and American Hustle, earning themselves multiple Oscar nominations and for Lawrence, even a win. However, warning bells start ringing when one discovers that Serena was filmed back in 2012, has struggled to find a distributor, and has now arrived with barely a whimper.
Based on the novel by Ron Roth, Serena is set in Depression-era North Carolina, where George Pemberton (Cooper) and his wife Serena (Lawrence) own a timber empire which is under threat. Consumed by her love for her husband, Serena will stop at nothing to ensure their future happiness, even if it means abandoning all moral reason.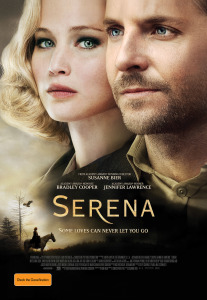 Danish director Susanne Bier has created a film that just doesn't feel quite right. A-list celebrities are an odd fit with its style, though it is highly probable this entire production would have vanished from plain sight without their pull. To their credit, Lawrence and Cooper put in admirable performances, elevating Serena above telemovie status by making the audience care about characters that aren't all that likeable to begin with. Though there is some room for Lawrence to embrace the darker side of Serena, this comes so late on in the plot that we barely get a chance to enjoy it. Her fans will be out in full force to check out anything with her name on it, but this is no Hunger Games and they are probably not the intended audience for Serena.
The target audience for Serena is not completely clear, however. Fans of Ron Roth's novel have expressed disappointment over screenwriter Christopher Kyle's apparent slaughtering of the source material. The screenplay feels lazy, plodding along for a while until the next big narrative shock which acts as a wake-up call for a tired audience. In most cases this means throwing some blood into the mix, whilst being unable to decide on a gory or subtle approach and thus oscillating between the two. Serena is laughable in parts that clearly shouldn't have been funny, further exposing its flawed direction and screenplay. The repeated sex scenes are excessive and become cringe-worthy, seemingly just inserted at random to make up for the lack of passion in the filmmakers' hearts. To add salt to the wound, we barely even see Bradley's hot bod, despite endless opportunities.
There were enough moments to sustain the audience's interest in Serena, but what was the point of it all? The motivations of secondary characters were frequently unclear (a random prophecy for one character underscores a huge plot development) and it was difficult deriving any sort of take home message from the film.  If Serena teaches us anything, it is that even the great J-Law and B-Coop can't save a sub-par film.
Serena is in Australian cinemas from 27 November through StudioCanal.