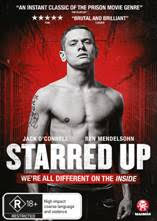 Courtesy of Madman Films, Film Blerg is giving away 3 DVDs of STARRED UP starring Ben Mendelsohn and Rupert Friend (RRP $29.95).
Film Synopsis:  Boasting a stellar cast at the peak of their dramatic powers and written by former prison therapist Jonathan Asser, STARRED UP is raw, visceral and violent: a brutally realistic and spellbinding addition to the prison movie genre.
Eric (Jack O'Connell, star of the upcoming UNBROKEN) is a violent young offender prematurely thrown into the dark world of an adult prison. As he struggles to assert himself against the prison officers and the other inmates, he has to confront his own father, Nev (Ben Mendelsohn, ANIMAL KINGDOM); a man who has spent most of his life in jail. As Eric forges allegiances with other prisoners and with his prison councillor, Oliver (Rupert Friend, from TV's HOMELAND), he learns that his rage can be overcome and discovers the new rules of survival. But there are forces at work which threaten to destroy him.
How to win:
Competition opens 9am AEST Monday 24th November, 2014 and closes 5pm AEST Friday 28th November, 2014.
Terms and conditions
Passes are eligible only to Australian residents.
Film Blerg and the Madman Films cannot be held accountable for any delay or loss of prizes.
You must subscribe to the Film Blerg newsletter to be eligible.
Any information sent remains confidential.