In Maps to the Stars, director David Cronenberg throws a satirical spotlight on Hollywood, highlighting the fickle superficiality of the entertainment industry through a cast of psychologically unstable, hollow characters. With a screenplay by Bruce Wagner, Cronenberg creates a surreal world that is troubling, perverse and increasingly macabre. However, its disturbing moments involving incest, drugs and violence are dispensed with an almost cool detachment, and together with a meandering plot the film's derisive agenda is diluted.
The film opens with mysterious Agatha (Mia Wasikowska) arriving in L.A., and after meeting Jerome (Robert Pattinson), a limousine driver and aspiring actor, they strike up a weird friendship-relationship of sorts. She is in town to reconnect with her family, including the wackily earnest TV psychologistt Dr. Stafford Weiss (John Cusack), to make amends for an incident involving her younger brother and child star Benjie (Evan Bird) that lead her to being institutionalized. She comes to be employed by Havana Segrand (Julianne Moore), an aging actress desperate to resurrect her career and escape the shadow of her famous actress mother by, ironically, starring in a remake of the film that made her mother famous. The lives of these characters intersect to create a tapestry that is dreamlike and eerie, managing to be both humourous and unsettling at the same time.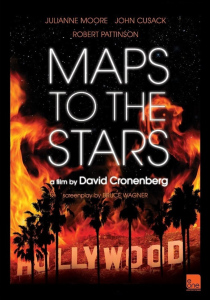 The performances are generally strong, with Cusack creepy and somber and Bird capturing portraying a sense of entitlement that is intertwined with alienation and disillusionment. However, Wasikowska and Moore are the standouts. Wasikowska brings her natural flair for shaping introverted, scarred (in this case, both physically and mentally) characters; her Agatha is emotionally unstable with a blurred conception of reality's boundaries, who always seems to teeter on the edge of reverie. And Moore is simply electrifying and hilarious in struggling against the plight of older actresses in the entertainment industry. She is utterly committed and convincing in her desperation to remain relevant, and she once again showcases her fearlessness in playing a character that is both pitiful and reproachable.
Beyond the performances, the score is subtly disconcerting, and juxtaposed against the bright superficiality of L.A. and the deceptively unassuming cinematography that seems to persistently suggest that something is awry, Cronenberg gestures towards the psychological volatility simmering beneath. In the end, however, what undermines this mood is a winding plot that never really builds momentum, and the film becomes more like a collection of unsettling vignettes that do not really connect coherently together.
Maps to the Stars is in Australian cinemas from 20 November through Icon.