Dragging out the final chapter has now become commonplace with film adaptations of YA novels. But with the latest instalment of The Hunger Games this more protracted approach has enabled the franchise to enter into more mature territory. In The Hunger Games: Mockingjay – Part 1 director Francis Lawrence, working from a screenplay by Danny Strong and Peter Craig, displays more assured direction and visual style that helps usher in its darker political themes. And despite its comparative lack of action sequences, the film instead boasts a tense controlled atmosphere and an astute political intelligence, as it establishes the groundwork for the final film's more violent climax.
Previously, Katniss Everdeen (Jennifer Lawrence) had destroyed the Hunger Games arena and was immediately whisked away to District 13, where the rebellion against the Capitol and President Snow (Donald Sutherland) is being coordinated by President Alma Coin (Julianne Moore) and Plutarch Heavensbee (Philip Seymour Hoffman). Their plan is contingent on Katniss becoming their 'mockingjay', the symbol and catalyst for galvanizing the other districts into full-scale civil war. However, she is reluctant, preoccupied by the fate of her fellow victor Peeta (Josh Hutcherson), who remains in the clutches of the Capitol. Instead, she must come to accept this responsibility on her own, and with Gale (Liam Hemsworth), Haymitch (Woody Harrelson) and Effie (Elizabeth Banks) she is forced to confront the urgency, the necessity, even the inevitability, of rebellion.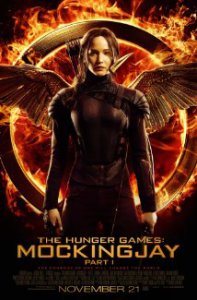 The cast is solid across the board. Sutherland and Moore make an interesting contrast in leaders; both invoke a calm, controlled demeanour, but whilst Sutherland is more explicitly conniving in channelling a wilfully duplicitous political leader, Moore is cooler in her self-possession, evoking the sturdy composure of a military leader. But, unsurprisingly, it is Lawrence who provides the film's most compelling performance, bringing an effortless, natural magnetism to the screen. Summoning an emotional range that covers barely suppressed fear, palpitating anxiety and strident, defiant anger she is always engaged. She infuses her performance with a visceral intensity, aware of Katniss' emotional vulnerability and also her strained capacity to manage her internal conflict.
This internal conflict, driven by pressures both personal and political, becomes the primary focus of the film, and the direction and screenplay are therefore more patient compared to the action-focussed narratives of the previous chapters. The thrills instead derive from the politically strategic 'moves and counter-moves' (in the words of President Snow) that comprise the inexorable build towards rebellion. And despite the knowledge that this instalment is merely a prelude, the opportunity to focus on character development is a necessary step to consolidating our emotional investment in Katniss' transformation into the symbol of the rebellion. Taking this more meandering, protracted trip is important in developing a portrayal of an utterly conflicted protagonist, whose emotional growth will likely make the franchise's climax all the more gratifying.
The Hunger Games: Mockingjay – Part 1 is in Australian cinemas from 20 November through Roadshow Entertainment.