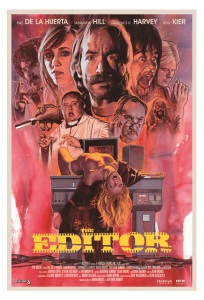 Courtesy of the Monster Fest, Film Blerg is giving away a double pass to the opening night film THE EDITOR on Friday 21st November at 7pm at Cinema Nova in Melbourne*.
*Please note that this competition is only option to Melbourne residents.
Film Synopsis: Two years ago at Monster Fest a storm of controversy erupted when Astron 6's FATHER'S DAY was banned only days before its scheduled screening. Well my Festyfriends, Astron 6 is back, and this time it's a whole new evil they're peddling – the brilliant, much awaited, critically lauded, THE EDITOR.
What FATHER'S DAY was to 70's/80's VHS grindhouse, THE EDITOR is to Italian horror of the same period – but this time they've got a budget, and the results are astonishing! THE EDITOR is a loving absurdist horror comedic riff on one of the most lurid eras in cinema history – and once again Astron 6 has nailed it. The story of a film editor embroiled in a murder investigation is simultaneously hilarious, nasty and sweet, with Astron 6's signature attention to detail.
Only weeks after its World Premiere at the Toronto International Film Festival's prestigious Midnight Madness showcase, THE EDITOR is one of the hottest genre films on the planet at this point in time. With cameos from the likes of Udo Kier (BLOOD FOR DRACULA), Laurence Harvey (THE HUMAN CENTIPEDE 2) and Tristan Risk (AMERICAN MARY), and with a score partly realised by Goblin maestro Claudio Simonetti, this is a film that simply MUST be seen on the big screen. Two words – Giallo… Bellissimo! If you don't know what they mean, look em' up!
How to win:
Competition opens 9am AEST Monday 17th November, 2014 and closes 5pm AEST Wednesday 19th November, 2014.
Terms and conditions
Passes are eligible only to Australian residents.
Film Blerg and the Monster Fest cannot be held accountable for any delay or loss of prizes.
You must subscribe to the Film Blerg newsletter to be eligible.
Any information sent remains confidential.