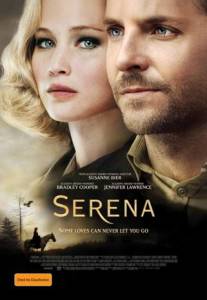 Courtesy of StudioCanal, Film Blerg is giving away 10 double passes to Jennifer Lawrence and Bradley Cooper in SERENA in cinemas from November 27.
Film Synopsis: Adapted from the book, starring Jennifer Lawrence, Bradley Copper and Rhys Ilfans and directed by Susanne Bier, 'Serena' begins in the North Carolina Mountains at the end of the 1920's. George and Serena Pemberton, love-struck newly-weds, begin to build a timber empire. Serena soon proves herself to be equal to any man: overseeing loggers, hunting rattle-snakes, even saving a man's life in the wilderness. With power and influence now in their hands, the Pembertons refuse to let anyone stand in the way of their inflated love and ambitions. However, once Serena discovers George's hidden past and faces an unchangeable fate of her own, the Pemberton's passionate marriage begins to unravel leading toward a dramatic reckoning.
How to win:
Competition opens 9am AEST Monday 17th November, 2014 and closes 5pm AEST Friday 21st November, 2014.
Terms and conditions
Passes are eligible only to Australian residents.
Film Blerg and the StudioCanal cannot be held accountable for any delay or loss of prizes.
You must subscribe to the Film Blerg newsletter to be eligible.
Any information sent remains confidential.