There are few cities that throw up as much dramatic inspiration as Paris. In Israel Horovitz's My Old Lady, it is a quirk of real estate that is the source of complication between generations.
Kevin Kline plays Mathias Gold, an American whose estranged father, upon his death, has seemingly passed onto him a house in Central Paris. It would will make him millions if he sells it off, and given that he is many times divorced and broke, this would be welcome news. The only catch is that the house isn't technically his to give away yet. Still living in the house is Mathilde Girard (Maggie Smith), the woman from whom his father bought it originally.
The arrangement is the result of a Parisian quirk – a viager – whereby someone may buy a house in addition to letting the existing occupant live there until they die, until which time, the buyer must make monthly payments. Only when Mathilde dies can Mathias attain full ownership. For Mathias, it seems like a relatively simple equation as Mathilde is in her 90s, but her Mathilde's daughter Chloe (Kristin Scott Thomas) is also living there. With a broke and profit-hungry American threatening to sell the house off to a greedy developer, relations are admittedly rocky between parties, but revelations about their intertwined history might change everything.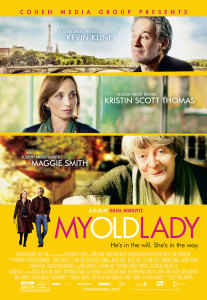 We know how this ends, and the plodding pace of the film does to some extent over-delay the inevitable, even if seeing the calibre of Kristin Scott Thomas, Maggie Smith and Kevin Kline on screen is a pleasure. Horovitz's screenplay, based on his own stage play, is certainly written to display the strengths of these fine actors, with the stage feel giving the Paris setting a peculiarly narrow scope and the string of set-piece conversations constructed with light-hearted humour, owing to Mathias's frustration with Mathilde for being so healthy at 92.
This is not a comedy though. The focus here is on concealed family secrets and unspoken regrets, and a heavily dramatic second half ensures that there is little real enjoyment to be gained from this film. Its characters are mentally tortured due to various deeds and regrettable memories, and much of the film is of people arguing or at odds with each other. It's not enlightening bickering either. It's tiresome, and to that end, it is a shame for such renowned actors to be wasted on such an uninspiring and linear story.
My Old Lady is in Australian cinemas from 13 November through Entertainment One.