This year's winner of the Palme D'Or at the Cannes Film Festival is Winter Sleep, from Turkish director Nuri Bilge Ceylan. Written by Ceylan, along with Ebru Ceylan, the film manages to be simultaneously intimate and sprawling in scope – focussing on one man's gradual understanding about the realities of his closest relationships whilst also providing fascinating insights about the tensions between socio-economic classes. However, clocking in at over three hours, it is no doubt challenges on the attention span, especially because the film unfolds at a restrained, controlled pace and relies heavily on dialogue. In the end, despite the film's admirable qualities – its assured direction, solid performances and nuanced screenplay – its ambling running time detracts from its potential overall impact.
Aydin (Haluk Bilginer), a wealthy former actor, owns and manages a hotel on top of a mountain in a village in Turkey. He is also involved in the affairs of many of the people who live in the nearby villages. When winter begins to seep into the quiet tranquillity of the mountains, repressed and simmering tensions begin to manifest and seemingly inevitable conflicts arise. Aydin is forced to confront that his relationships – with his lonely sister Necla (Demet Akbag), with his increasingly estranged wife Nihal (Melisa Sozen) – are much more unstable than he thought, and that the less fortunate who live in the surrounding villages harbour hostile views of him. In doing so, he is compelled to acknowledge his arrogance and concede his own shortcomings, and ultimately his own involvement in how his life and his relationships turned out.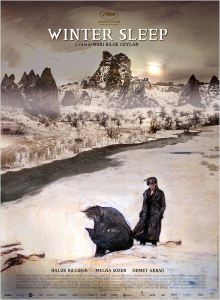 The film's chief strength is the confident direction that Ceylan provides. With his reserved, assured style he imbues the film with deceptively calm mood. This is complemented by the film's beautiful cinematography, such as the images of falling snow, which gesture towards a fleeting, temporal beauty. Such a tranquil backdrop only renders the scenes of quarrels and disputes more potent, and the Ceylans' screenplay contains some searing moments of confronting truth which seem to creep up and leave behind an unresolved and lingering taste of bitterness. The performances are also strong across the board, all of them contributing to the mosaic of tensions that gradually build throughout the film.
Ironically, however, this gradual build-up is undermined and diluted by the film's deliberately meandering pace. It is a slow, sluggish build, requiring a focus that will test patience and concentration. Specifically, it is in the quieter moments that the film falters. Winter Sleep no doubt has its moments of compelling drama, but overall its dramatic impact is undercut by Ceylan's decision to draw out the tension and consequently undermine the power of the film's poignant conclusion.
Winter Sleep is in Australian cinemas from 13 November through Sharmill Films.