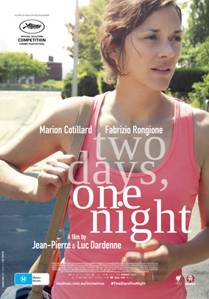 Courtesy of Madman Films, Film Blerg is giving away 5 double passes to the Marion Cotillard film TWO DAYS, ONE NIGHT in cinemas from November 6.
Film Synopsis: Academy Award®-winner Marion Cotillard (La Vie en Rose) is Sandra, a married woman with two children who plans to return to her factory job after a breakdown. However she's told that she is to be made redundant, while her co-workers will receive a bonus. In order to help her, Sandra's best friend at work has convinced their boss to hold a vote – do the workers want to save Sandra's job, or keep their bonus? It isFriday and the vote will be held on Monday – Sandra has the weekend to persuade her workmates to keep her employed, or to sacrifice their bonus they need to make ends meet.
Written and directed by two-time Palme d'Or-winning filmmakers, Jean-Pierre and Luc Dardenne, and with a commanding performance by Marion Cotillard, TWO DAYS, ONE NIGHT is an emotionally resonant drama.
How to win:
Competition opens 9am AEST Tuesday 28th October, 2014 and closes 5pm AEST Sunday 2nd November, 2014.
Terms and conditions
Passes are eligible only to Australian residents.
Film Blerg and the Madman Films cannot be held accountable for any delay or loss of prizes.
You must subscribe to the Film Blerg newsletter to be eligible.
Any information sent remains confidential.