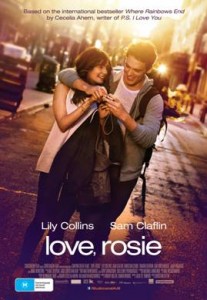 Courtesy of StudioCanal, Film Blerg is giving away 5 double passes to the new film LOVE, ROSIE in cinemas from November 6.
Film Synopsis: Based on the hugely successful romantic novel by the same author of PS. I Love You, the film follows two inseparable childhood friends, Rosie (Lily Collins) and Alex (Sam Claflin.)  They take a leap of faith, both on life and on each other, when they decide to go to America together to attend University. But fate has other plans for Rosie who discovers that she is pregnant after a crazy night out with the most popular boy in school. She encourages Alex to go without her, hopeful that she'll catch up with him eventually. Over the next twelve years, their lives change dramatically but the undeniable connection remains. At the back of Rosie's mind is always the question, what if fortune had taken another turn and they were meant to be more than just good friends. LOVE, ROSIE is a modern comedy-of-errors tale posing the ultimate question: Do we really only get one shot at true love?
How to win:
Competition opens 9am AEST Tuesday 28th October, 2014 and closes 5pm AEST Sunday 2nd November, 2014.
Terms and conditions
Passes are eligible only to Australian residents.
Film Blerg and the StudioCanal cannot be held accountable for any delay or loss of prizes.
You must subscribe to the Film Blerg newsletter to be eligible.
Any information sent remains confidential.