Happiness is what we all strive to find and keep, yet its source will always remain somewhat elusive. Sure, possessions and status count for something but endless studies show that when it really comes down to it, happiness depends on more than anything money can buy. It's important that we make enough money to meet basic needs and have access to food and water, but it really seems as though happiness is more dependent on your relationships with the people around you than anything money can buy.
Hector (Simon Pegg) is a middle-aged, quirky psychologist who leads a life full of rules and routine with his long-term (and neurotic) girlfriend Clara (Rosamund Pike). The couple live in a beautiful and modern apartment, both make good money and seem to have it all. However all of a sudden Hector snaps and, fed up with listening to his upper class clients complain about their first world problems, decides to go on a journey to find out exactly what makes people happy.
Not wanting to always wonder if the grass is greener on the other side, Hector takes off, sans Clara, and "travels the world", heading to Shanghai, Africa and Los Angeles. Not only does he take notes throughout his journey, his doodles come to life on the screen, making the experience all the more charming.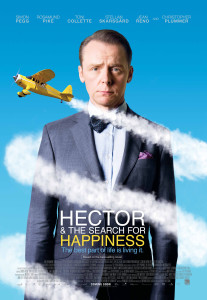 Director Peter Chelsom (Shall We Dance, Serendipity) hasn't really broken any new ground here. Yes, the subject matter is a bit predictable, especially for those of you who have seen the documentary Happy (2011), however Pegg's appeal certainly makes up for it. The supporting cast is quite wonderful, including Stellan Skarsgard, an extremely wealthy businessman who shows Hector a good night out in Shanghai, Jean Reno as a Colombian drug dealer who inadvertently gets Hector out of a particular sticky situation in Africa and Christopher Plummer as a professor very well versed in researching the pursuit of happiness.
This worldwide tour is beautifully shot but it is disappointing to note that the film treats the enormous and vast continent of Africa as if it is one country. It is never specified exactly where Hector travels, perpetuating stereotypes and offering no fresh insight into a land that supposedly does so much for the film's main character.
That small gripe aside, Hector and the Search For Happiness is a very cute film. While it doesn't really break any new ground, it paints an uplifting and somewhat inspiring portrait of a loving man we all have something in common with.
Hector and the Search For Happiness was released in Australian cinemas on 23 October through Becker Film Group.