Quite reminiscent of last year's August: Osage County, Shawn Levy's This Is Where I Leave You is your run of the mill, part black comedy, part drama that delves into the dysfunctionality of a family at their most vulnerable.
Judd (Jason Bateman) is living proof that looks can be deceiving. On the surface he seems to have it all, he's popular, has a great job and a beautiful apartment, but coming home to find his wife in bed with his obnoxious boss (Dax Shepard) forces him to dig a little deeper and face some hard truths.
Shortly after his marriage seemingly comes to an end, Judd finds out father has died. Despite being a non-practicing Jew, his dying wish was for his four children and wife to sit Shiva, a week-long mourning period where family members gather in one home and receive visitors.
Joining him is his sister Wendy (Tina Fey), a woman stuck in an unhappy marriage albeit with two very cute children, his brother Paul (Corey Stoll) and wife Annie (Kathryn Hahn), a couple very much in love but unable to conceive a baby, his youngest and most vapidly selfish brother Phillip (Adam Driver) and his cosmetically enhanced yet still beautiful (and feisty) mother Hillary (Jane Fonda). Throw former school chum Penny (Rose Byrne) in the mix and you have a recipe for disaster. Right?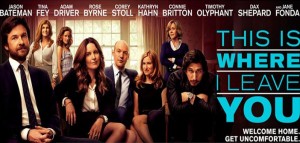 Well, not exactly. You really don't need to know any more about the plot as we've seen this all before. The siblings are at each other's throats the entire time, with a few tender moments thrown in between. Director Shawn Levy (Date Night, Night At the Museum) might deliver a few laugh out loud moments, but even then you can't help feel as though there is a lot of wasted potential, particularly in Fey's case.
The most beautiful part of the film is undoubtedly Horry's (Timothy Olyphant) story. He and Wendy were childhood sweethearts and were both in a car accident that left Horry with a debilitating brain injury. While he is mobile and semi-independent, he is only able to function as an adult on the most basic of levels and is very much left behind in a town that everyone else left as soon as they were of age. Screenwriter Johnathan Tropper (who also wrote the original novel) gives us a brief insight into the connection between the two ex's, but it only ends up leaving the audience unsatisfied and it is very unfortunate that their connection wasn't a larger focus in the film.
Unfortunately everything is either predictable or stale, from the 'romantic' ice rink rendezvous (cue Cyndi Lauper's Time After Time), to the angst and destructive behaviour. The lack of originality, of offering anything new is this film's major downfall. And that is where I'll leave you.
This Is Where I Leave You is in Australian cinemas from 23 October through Roadshow Pictures.