'There are no two words in the English language more harmful than good job' as the despotic conductor, Terence Fletcher (J.K. Simmons) puts it. Charlie Parker didn't achieve greatness by being told how 'good' he was. The drummer, J. Jones, who supposedly threw a cymbal at his feet, was one of the catalysts in Parker's success. Whiplash, based on the Sundance winning short film of the same name, echoes this through the relationship between an inspiring young drummer, Andrew Neyman (Miles Teller) and his ruthless conductor, Terence Fletcher.
Over black, we can hear the constant beat of the snares, growing louder and louder. And then we open on a distant shot of Andrew, sitting at his drum kit in a fictitious music conservatory in New York. The camera moves towards him as he starts to play. This is where Neyman and Fletcher meet for the first time, and we cannot help but know that this is going to be a bumpy ride. Neyman makes it into Fletcher's cutthroat music ensemble where he soon learns that Fletcher's arbitrary teaching method is both mentally and physically torturing.
J.K. Simmons, who has had some minor roles in some major films, delivers an Oscar worthy performance as Fletcher, that will no doubt put him back on the map, playing his character with such an authentic vileness and vulgarity. He is savage, remorseless, meticulous and every other word that pertains to brutal, showcasing several scenes that will undoubtedly go down in the years best. Not to be underwhelmed is Miles Teller's perfect performance as Neyman, who seems to thrive off Fletcher's abuse, literally, pushing him beyond his physical limits and irritably teasing his competitive nature. Some other minor roles from Melissa Benoist and Paul Reiser do a nice job as characters that are only there to share the consequences of Neyman's selfish actions.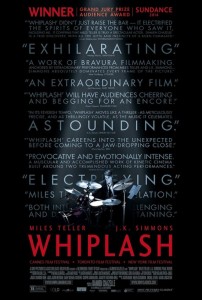 In only his second feature film as writer/director, Damien Chazelle is clearly one of the most exciting young directors behind the camera at the moment. Technically, the film is breathtaking, with Chazelle and his crew never missing a beat. The golden cinematography by Sharone Meir feels both organic and unique, working harmoniously with Chazelle's often unconventional choice of camera angles. The editing by Tom Cross, which was apparently completed in under ten weeks, is deserving of an Oscar, meticulously creating some of the most exciting, blood-pumping and memorable scenes of the year. Chazelle knows how to handle engaging characters, often giving Fletcher a touch of humanity and then crushing it in a beat. Neyman and Fletcher are both characters looking for belonging. They are both searching for greatness, which is ultimately determined in an unforgettable climax at the end of the film. There is nothing overly complex here, just a great story executed by people who know what they are doing.
Sitting at 107 minutes, you cannot help but want more. Chazelle directs this film with such craft and savvy, placing him as one of the great emerging directors of our time. It's an exciting prospect and one can only wait for his next film in eager anticipation. But ultimately, here is a film that teaches us the consequences of greatness, or the pursuit for greatness and how sometimes those consequences are irreparable. Whether Fletcher's practice is justified or not is an interesting subject of questioning, but nonetheless, this is a rare film that executes all the right emotions. So could it be a modern masterpiece? Only time will tell, but far and away, Whiplash is one of the best films of the year.
Whiplash is in Australian cinemas from 23 October through Sony Pictures.