Force Majeure is certainly a loaded term. French in origin, it denotes a 'superior force', one out of human control. It is, in fact, commonly used in law as a form of insurance. If an event out of human control prevents anyone from fulfilling a contractual obligation, regardless of due care taken, force majeure might be cited to excuse liability. Something like a hurricane might do, or an earthquake, or a tsunami.
Or maybe even an avalanche.
This brings us to the French Alps, where Tomas (Johannes Kuhnke) and Ebba (Lisa Loven Kongsli), and their two young children Vera (Clara Wettergren) and Harry (Vincent Wettergren), have taken a ski holiday. At first, the white blanketed mountains are a maze of crisscrossing tracks left in the wake of a family seemingly at ease and as one. However, it only takes a matter of seconds for everything to be turned on its head.
An avalanche gun sounds from up on high, and an avalanche begins to cascade down the slope, growing uncomfortably large and billowing towards the restaurant. People panic, the cloud storms closer, screams ensue, Ebba looks to shield the children… and Tomas runs away.
The threat passes and it dawns on everyone that the avalanche's cloud perhaps looked more threatening than in actuality. Diners return to their seats, as does the family. However, Tomas is delayed, and when he does arrive, he nervously laughs the episode off, proclaiming no harm done. However, only a fool would presume that to be true. He had abandoned his family.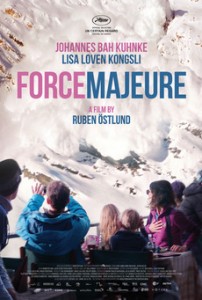 Having already won the Un Certain Regard Jury Prize at the Cannes Film Festival, and screening at Melbourne International Film Festival earlier this year, Force Majeure has been gaining momentum in its run into Oscars season, where it is to be Sweden's entry in the Best Foreign Film category. Writer-director Robin Ostlund may well be in luck as well, as this is a riveting and astute piece of psychological drama.
Coming back to the titular theme, is Tomas to be excused? Is the feeling of imminent death from an avalanche really a credible excuse for forgetting your family in the pursuit of survival? Are you responsible for your first instincts or is that part of you innate and beyond your control? They are all searing questions that are explored over the ensuing four days as Ebba and Tomas try to comprehend the sudden chasm that has erupted between them, and attempt to coordinate a bridge across it – if not for themselves, then at least for their traumatised children caught in the middle.
At times blackly humourous, and at others close-felt and heartbreaking, and always using the sights and sounds of the ski resort to full effect, this is a skilfully wrought tale of broken facades, bolstered by strong performances across the board. This is particularly true of the whole family, but it also includes supporting cast members, including Kristofer Hivju (Game of Thrones) and Fanni Metelius as another holidaying couple caught in the drama.
This is one of the most impressive and involving films of the year, and it has the nerve to ask the audience: do you actually know what would you do if you were faced with a split-second life-or-death decision?
Force Majeure is in cinemas nationally on limited release from 16 October through Sharmill Films.