Set in the seedy world of prisons and the mafia in Australia is Son of A Gun, directed by Julius Avery and with a screenplay by Avery and John Collee, who provided additional material. It has an intriguing premise, along with an expansive geographic scope, but ultimately this tale of a young man's unintended induction into the criminal underworld and his convoluted attempts to break out does not quite live up to its potential. Inconsistent direction, and a lead performance that comes across as a little disengaged, undermine the inbuilt tension of the screenplay. What's left is a story that is intermittently engrossing, but lacking in consistent thrills and urgency.
The film begins with nineteen-year-old JR (Brenton Thwaites) being ushered into a maximum-security prison in Perth. We know nothing about him, not even why he is being incarcerated, except that he clearly does not look like he belongs amongst the other rough, intimidating inmates. After recognizing and befriending Brendan (Ewan McGregor) on what is seemingly coincidence he is able to avoid some unsavoury confrontations. However, in return, Brendan expects some reciprocity, and thereafter JR becomes increasingly embroiled in the illicit dealings of the Russian mafia headed by Sam (Jacek Koman). His attempts to escape are made more pressing after he meets his romantic interest Tasha (Alicia Vikander), who is also trapped in Sam's criminal web. What follows is a series with twists and turns characterized by covert motives and unstable alliances.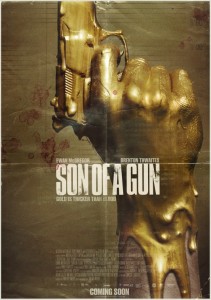 The plot itself is intriguing, especially the use of chess throughout the film, but its execution is hampered by direction that lacks enough style and tension to make it thoroughly immersive, despite attempts by the musical score to compensate. Additionally, even though little is revealed about his character's background, Thwaites' lead performance is more vacant than mysterious. It is as though he is being swept up with the narrative but is not invested with its direction or outcomes. Little is conveyed about his character's inner turmoil and state of mind, and he does not summon the intensity required to balance and counter McGregor's effortless, magnetic performance. Instead, it is McGregor that most successfully encapsulates the right spots in mood and atmosphere. Alternating between an outwardly calm demeanour and unexpected violent outbursts, he manages to provide the film with moments that are unpredictable, mysterious and brooding. His presence, and his scenes, gestures towards the tense crime thriller the film could have been. Instead, the film ends up being a little underwhelming, and one is left with the impression that it could have been so much more.
Son of A Gun is in Australian cinemas from 16 October through Entertainment One.