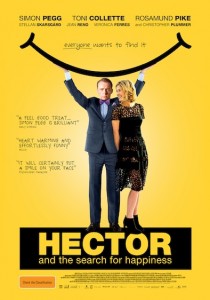 Courtesy of Becker Film Group, Film Blerg is giving away 5 double passes to the new film HECTOR AND THE SEARCH FOR HAPPINESS, in cinemas from October 23.
Film Synopsis: HECTOR AND THE SEARCH FOR HAPPINESS is a globe-trotting comedy, in which a dissatisfied London psychiatrist (Simon Pegg) embarks on a continent-crossing trip to discover the key to happiness, with playful appearances from Rosamund Pike, Toni Collette, Stellan Skarsgård, Jean Reno and Christopher Plummer.  Funny and insightful in equal measure, Hector and the Search for Happiness is an epic quest full of people, places, and perspectives that will stay with you forever, whether it's living the high life in Shanghai, seeking out the best African recipes, defying local authorities, or searching for closure on past heartbreaks. Most importantly though, in asking others what makes them happy, Hector eventually realises he needs to turn the question on himself.
How to win:
Competition opens 9am AEST Monday 13th October, 2014 and closes 5pm AEST Friday 17th October, 2014.
Terms and conditions
Passes are eligible only to Australian residents.
Film Blerg and the Becker Film Group cannot be held accountable for any delay or loss of prizes.
You must subscribe to the Film Blerg newsletter to be eligible.
Any information sent remains confidential.