"You need to go full Walrus".
For better or worse no film is quite as original as cult writer/director Kevin Smith's similarly themed follow up to his atypical horror film Red State; and it would be safe to say that no film would share it's origins as a weekly episode from a podcast. Like Red State, Tusk is a surprisingly effective blend of Smith's usual jokey dialogue, high drama and disturbing horror.
In a performance which at once mimics and exaggerates Smith's own podcast persona, Justin Long stars as Wallace, half of the internet radio duo 'The Not-See Party' with his best friend Teddy (Haley Joel Osment), who travels to Canada for an exclusive interview. When things don't go quite as planned, he finds a flyer in a men's room bar advertising a room for rent in exchange for listening to the host's stories. Intrigued, Wallace drives out to the man's secluded mansion where, true to his word, the mysterious man regales him with stories of having his boat sunk in WW2 and meeting Ernest Hemingway which enthral the young reporter. Unfortunately the man, Howard Howe (Michael Parks) turns out to be a mass-murder with intentions which are weird to say the least. When Teddy and his girlfriend Ally (Génesis Rodriguez) don't hear from him, they follow him to Canada and track him down with the assistance of Guy Lapointe (who is credited as playing himself).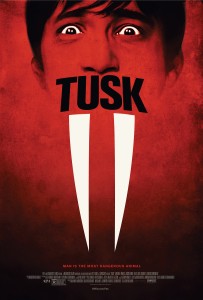 Tusk is very much a mixed bag. The off-beat narrative doesn't always blend the heady mix of comedy and drama as successfully as Smith aims for, but regardless it's hard to fault his conviction and he follows his bizarre ideas right through to their logical conclusions. He also brings a great gothic sensibility to the proceedings which favourably recall the great Vincent Price–Roger Corman Edgar Allan Poe movies of the '60s.
Also recalling Vincent Price in his creation of an eccentric villain, but also combining a chilling and oddly touching humanity to the role, is Michael Parks who was so incredibly powerful in Red State (as well as many other films). While it's nice to see an almost unrecognisable Haley Joel Osment playing an adult character since his run of child roles in the likes of The Sixth Sense, the revelation of the film is Génesis Rodriguez. Despite a certain redundancy in her scenes (one gets the impression that Smith beefed up her part after realising just how good she is – and deservedly so), Rodriguez becomes the heart of the film as Wallace's conflicted girlfriend. One should expect great things from her in the future. The film also makes a star out of makeup effects legend Robert Kurtzman's creature design (which is best seen with no preconceptions), and boasts the craziest (and frankly one of the worst) cameos in film history.
Also featuring an incredible score from the relatively young composer Christopher Drake (who's been cutting his teeth on Smith's beloved DC animated movies and video games), Tusk will inevitably appeal more to those who can go along with its insanity. Others have been warned.
Tusk was released in Australian cinemas on 9 October through Sony Entertainment.