To call a film nihilistic isn't necessarily a criticism of the given film, and if ever there was a case in point, it's Gone Girl, director David Fincher's adaptation of Gillian Flynn's best-selling novel. Pessimism, cynicism, you can call it whatever you want, the entire film revels in its darkness: its story, its characters and its themes, but it also explores them in the context of a particularly rich narrative which is again executed flawlessly by its director.
The film begins with the deeply flawed character of Nick (Ben Affleck) coming home to find his house in disarray and his wife, Amy (Rosamund Pike) missing. Two detectives (Kim Dickens and Patrick Fugit) are put on the case which quickly spirals into an out of control media circus as flashbacks from Amy's diary tell us about the history and current state of their relationship. About halfway through the film a twist sends the story into an entirely unexpected direction, which those unfamiliar with the source material will find especially intriguing, while those that are will have to contend with the way that Flynn (who also wrote the screenplay) has adapted her work for the big screen.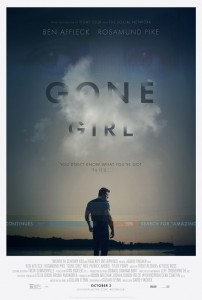 At this point, after almost twenty years since the release of his first 'proper' film, Se7en; David Fincher has become the undisputed master of this kind of film; almost wearing the weighty themes of death, murder and moral degradation as badges of honor. Not only an incredible stylist though, he crafts distinctive worlds for his films and penetrates the lives of his characters to investigate his obvious fascinations. Gone Girl is no different, it is meticulously crafted and there is a death scene that will go into the annals of film history.
The films only real flaw is in the very thing which makes it so incredible: the shift in the narrative at the half way point. The consequences of being so structurally innovative and daring make for some frustrating changes. The presence of Kim Dickens and Patrick Fugit as the detectives is greatly reduced, despite having been so prominent to begin with, and their charisma as a pair is undeniable. Dickens especially is excellent and deserves Oscar recognition for her work here, if not her own spin off film. The film also introduces black comedy which, tonally, doesn't fly at all after being notably absent for the first 90 minutes.
This few quibbles aside, Gone Girl is a strikingly original film with great performances by a talented cast that will leave you breathless and talking about it long after you've seen it.
Gone Girl is currently in Australian cinemas through 20th Century Fox.