By Gwydion M. Williams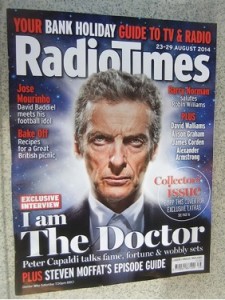 In Britain there are few TV roles more coveted than the part of Doctor Who. The travelling Time Lord has been part of Saturday nights for over 50 years – there have been 803 episodes in all. With the show being so steeped in history it comes as little surprise that competition was stiff for the role of the titular Doctor when Matt Smith stepped down in 2013.
Peter Capaldi was the bookmakers favourite for the part – follow link to get your free giveaways at Maple Gambling – and eventually won the right to become the 12th Doctor.
Now, Capaldi is not like his predecessors, Smith and David Tennant; he is more like the great Doctor's of old. He is a Doctor that will appeal to an older fan-base rather than children. His terrifying, expletive-filled portrayal of Malcolm Tucker won him a legion of fans for the political satire The Thick of It; many of these fans will follow Capaldi to every corner of the galaxy. Albeit, minus the swearing, Capaldi's Doctor can be every bit as good as his Malcolm Tucker performance.
With a few episodes of the new series aired what feel are we getting for the new Doctor?
The shortest answer would be: a very good one. Here's why.
Look
Each Doctor has always had their very own unique look. Tennant paired his blue suit with a pair of Converse high top trainers. That look was not only cool and majestic but it will always be associated with Tennant's Doctor. As for Smith, he went down the route of bow ties and tweed, again the look was profound but will always be Smith's look.
So how about Capaldi, what look has the 12th Doctor opted for? From a stylistic perspective: the best. This Doctor rocks a blue short Crombie coat with red lining – paying homage to Jon Pertwee's 3rd Doctor – dark blue trousers, a shirt; fully buttoned, a waistcoat and some Dr. Martens style brogue boots.
The look is stark, stripped back and very, very rebel. This look gives the Doctor a menacing look, something that we haven't really seen since the days of Christopher Eccleston, the 9th Doctor, in 2005.
Persona
Capaldi's Doctor is a Time Lord that many younger viewers will not have encountered before. Unlike his two predecessors, he is a lot more removed and far less affable to his human consorts. He doesn't truly understand humans, due to him being "more alien than he has been in a while", and due to that, can come across as abrupt and rude.
As the foul-mouthed Malcom Tucker, Capaldi was allowed to flourish. His wisecracks and foul mouth tirades made for TV gold, the same should happen with this Doctor. By allowing the Doctor to be disinterested in human beings Capaldi can came across as aloof and rude – something that he does brilliantly.
He'll most definitely be the rudest, most unreliable, dislikeable Doctor but, it will make such a pleasant change. No more will we have a Doctor pandering for human affection, instead we have a Doctor who lives up to his billing as a Time Lord. He doesn't need us, we however, most definitely need him, and it was about time that the dynamic changed to this.
Review

Everything is glowing for Capaldi thus far. Euan Ferguson of The Guardian said his performance was "wise and thoughtful", while Richard Beech of the The Mirror said that Capaldi displayed "all the hallmarks of a great Doctor" – these are just two of many.
People are enjoying this new Doctor. Smith and Tennant's Doctor's were both brilliant but there was little differentiating between the two. Capaldi's is a Doctor that none of us younger generation are really accustomed with and that is why we will love it.
The newest episode of Doctor Who airs on ABC in Australia on Sunday 21st September.