Following the critical success of Meek's Cutoff, American independent filmmaker Kelly Reichardt returns with Night Moves, another deliberately paced drama, this time following three environmental radicals as they plot and execute a plan to blow up a major dam.
We first meet Josh (Jesse Eisenberg) and Dena (Dakota Fanning) as they scope out their target about a week away from putting their plan into action. They are both passionate about the environment and have committed acts of violence in its defense before; there is no question of their resolve. As the time comes for the plan to be put into effect they meet up with another, older, member of their cause, Harmon (Peter Sarsgaard) who tellingly lives in a trailer and doesn't quite have the professional ethic of his partners. From a highly objective and detached point of view, we watch the plan being executed and its aftermath – which naturally isn't what is expected.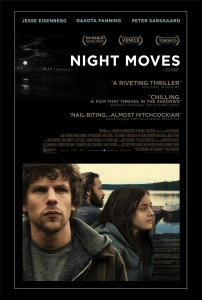 The idea of the 'slow' or deliberately paced film, isn't something a lot of filmmakers can get right, often crafting something that smacks of pretentiousness and comes off as flat out boring. Reichardt, however, not only gets it right, but proves a study of how to effectively pull it off. In terms of following their plan, she is concerned entirely with the minutiae and complexities as things go wrong, effectively making it so that the standard cause and effect beats of other films, become thrilling here. She ably holds the attention of her audiences and makes them empathize with her characters, regardless of how they feel about what they're doing.
With the somewhat muted plot, the film very much becomes an actor's piece, but instead of dramatic theatrics we are rewarded with considered and thoughtful performances. Eisenberg is quietly effective as he continues to establish his place as one of his generation's best and most interesting performers. Dakota Fanning continues to build on her post-child star legitimacy, and brings sincerity and passion to her multi-faceted character. Sarsgaard does his now-familiar trailer guy routine, but if you're going to watch any actor go through the motions, it may as well be one who has as much natural charisma and intelligence has he has.
Although it goes too far in the final act which takes it into the conventional genre territory that the film had avoided so well until then, Night Moves is a fine, character driven indie thriller which allows audiences to soak in its compelling atmosphere.
Night Moves is in Australian cinemas from 11 September through Curious Film.