20,000 Days On Earth is effectively a staged documentary that purports to follow Australian born music legend Nick Cave on his titular anniversary. Throughout the day he drives from appointment to appointment, all of which allow him ample opportunity to reminisce about his time as a rock star and writer, and interact with people from his past, while his poetic narration provides context for his very individual journey.
The film begins with a visually stunning pre-credit sequence which uses stock footage to count down the previous 19,999 days, before we find him awakening in his Briton home. From there we get a tour of his house where most of his writing takes place (we see him working at his vintage type-writer) before he leaves for a meeting with a therapist of some variety. Of all his meetings –later episodes include a lunch with fellow member of The Bad Seeds, Warren Ellis, and a visit to an archive that houses memorabilia from his life and career – it is this one, with the therapist, that works the least well. The clear presence of moving camera, combined with the rudimentary faux-psychology questioning by the therapist (what is your first sexual memory?, what is your first memory of your father?), both struggles to rise above cliché and actually has the effect of distancing us from the intimacy established elsewhere.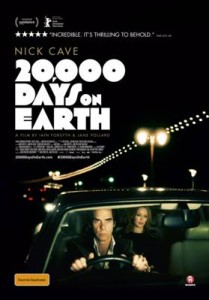 This idea of intimacy, which the documentary in creating a portrait of Cave hopes to achieve, is interesting in that Cave himself seems to comment on it when discussing the way he remembers other people in his life as "mythologized, edited versions of them", and it becomes apparent that this is what Cave himself, and the documentary, actually achieve, not the real Nick Cave, but the edited, mythologized version. While the staged documentary feel isn't entirely successful, it does create some incredible moments. "Imaginary" conversations Cave has with Ray Winstone – in which he discusses the nature of performing – and with Kylie Minogue talking about their collaboration on the song 'Where the Wild Roses Grow', are stunningly shot in his car and offer intriguing insight into his professional relationships.
Those geared for Cave's sensibility will be one step ahead of everyone else, and find a lot to like here, maybe more so than the average film goer, particularly with the extended performances of new songs. Regardless, it is an arresting testament to a never less than interesting individual.
20,000 Days on Earth is in Australian cinemas from August 21 through Madman Entertainment.