Critics barely had time to give any attention to Marvel's latest offering before it was announced that its second instalment would hit cinemas in 2017. The box office figures speak for themselves, with estimates reaching $94 million during its opening weekend in North America.
Guardians of the Galaxy follows an unlikely bunch of characters that band together in order to defeat an evil of devastating proportions. Peter Quill (Chris Pratt), or Star Lord as he prefers to be called, is an orphan of Earth who was raised in an alien gang lead by Yondu (Michael Rooker). He finds himself in a bit of bother after coming across a much sought after orb and after a series of random events finds himself in the company of Gamora (Zoe Saldana), a green skinned professional assassin, bounty hunters Rocket Racoon (Bradley Cooper) and the sweet Groot (Vin Diesel) and warrior Drax the Destroyer (Dave Bautista). These self proclaimed guardians of the galaxy essentially follow this orb around, dodging several menacing groups that wish to intercept and steal it for their own devastating means.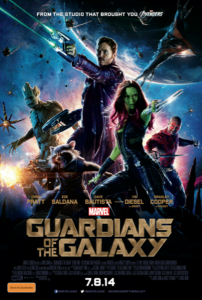 The casting is really well done, with Pratt as the standout performance. He has just the right amount of buff and brute strength that a Marvel lead needs and coupled with his trademark comic timing he is nothing short of excellent. From the opening scene he pulls the audience in with his fun 'I don't give a shit' attitude and this lasts throughout the film.
When compared with Marvel's back catalogue, Guardians of the Galaxy is quite unique, part of which can be attributed to director and co-writer James Gunn. The scale of this film is absolutely epic and the visuals are stunning. Vibrant, fun and full of colour we never doubt what is happening in front of us, which is a testament to those behind the scenes who made this universe come to life.
Guardians of the Galaxy is laced with humour and is complimented by a fantastically fun soundtrack. One of the film's main strengths is that it doesn't take itself too seriously and neither should the audience. While it is intended for older audiences, there is a lot of clean humour suitable for children as well. The plot is slightly convoluted, which may be especially tough for those who aren't familiar with the comics or particularly interested in action films, however it is still an enjoyable experience for everyone.
Guardians of the Galaxy is in Australian cinemas from 7 August through Walt Disney Pictures.