Words and Pictures, the latest film from acclaimed Australian director Fred Schepsi, has an intriguing and original premise at the core of its story. An English teacher and an art teacher at an American private secondary school wage a war against each other through their students over which is more powerful: the image or text. Unfortunately, despite the interesting idea, writer Gerald Di Pego weighs down his story with clichés and unbelievable character changes that the entire film ultimately sinks under.
Jack Marcus (Clive Owen) is the English teacher. Acerbic, arrogant and none-too-popular with the rest of the staff, he also has an alcohol problem.  This is perhaps the main flaw with Pego's screenplay. Alcoholism has been done to death in the movies, particularly as an excuse to justify otherwise unjustifiable behavior, and could easily have been supplemented for a more original character flaw. Dina Delsanto (Juliette Binoche) is a renowned artist and the new art teacher at the school, also arrogant and acerbic, but Pego contrasts Jack's alcoholism with the far more interesting personal crisis resulting from her inability to continue painting original work resulting from advanced arthritis. As they wage war against each other an unlikely relationship blooms between them as they give each other the strength to battle and overcome their personal demons.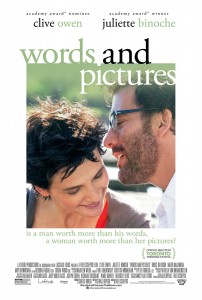 Regardless of the flaws in the writing of their characters, Binoche and Owen are both excellent in their roles. It is a testament to their abilities as actors that they can elevate these people to a place where an audience can engage with them as much as they do. Character actor Bruce Davison is also excellent in a supporting role as a fellow teacher and mutual friend of the two; it's sad when you find yourself investing so much in an otherwise rudimentary supporting character just because the main characters are so poorly shaped.
Beyond the central issue of Pego's construction of Jack's alcohol problem, the film also features one of the worst and most disingenuous endings in recent memory. It is as though it is expected that the audience forgets entirely the last two hours of screen time just so that the two main characters can have a happy ending. This isn't to say that a happy ending wouldn't have been possible, but the way this is constructed is simply nonsense and filmmaking at its absolute cheapest.
Carried by its original premise and the performances of its actors, Words and Pictures is disappointing, but also admittedly far from the worst film you'll see this year.
Words and Pictures is in Australian cinemas from 17 July through Umbrella Entertainment.