After winning in the Best Actor category at the Cannes Film Festival where it played in the Un Certain Regard section, it will come as no surprise that Charlie's Country is very much David Gulpilil's film. He shares a co-writing credit with director Rolf de Heer, and the semi-autobiographical story ─ of an ageing Aboriginal struggling with the laws of the white man while trying to live the way of his people – recalls Gulpilil's recent troubles with the law. His performance is perhaps the strongest of his career, radiating honesty at every moment, and more than deserving of the inevitable acclaim that he will receive and already has.
In very much an episodic fashion, the film's story revolves around the titular Charlie (Gulpilil) as we follow his adventures and misadventures around his local community where he meets resistance at every turn such as when his sawn off shotgun is confiscated by the local police after a successful hunting trip, he fashions a traditional spear which meets the same fate as his shotgun. Despite being seriously sick, he finally resolves to go into the wilderness, effectively to die. He doesn't, however, and we follow his story into a stay at hospital and subsequently his further decline.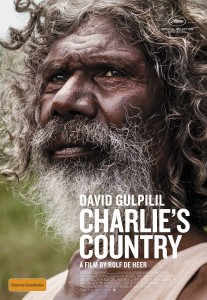 To say that Rolf de Heer is an idiosyncratic filmmaker may be an understatement. No other Australian director tackles material with such diversity (his film before this was the suburban black comedy The King Is Dead!) and approaches it so originally. The auteur theory may as well have been invented just for him. Regardless of his stylistic take on the material, his sensitive direction beautifully compliments the somber narrative and he elicits perfect performances – also featuring many of the characters from The King Is Dead! in entirely different roles (including Luke Ford, Gary Waddell and Dan Wyllie).
As well as his direction, de Heer and Gulpilil's screenplay is particularly strong. They don't reach for easy answers and the intervention of white men on the Aboriginal community is shown for both its positives and its faults. Despite the inevitable tragedy inherent in its story, the also imbue the film with humor that makes for a powerful blend.
Also featuring stunning cinematography from Australian mainstay and de Heer regular, Ian Jones, Charlie's Country is a powerful and sobering story that may be the best Australian film of the year.
Charlie's Country is in selected Australian cinemas from 17 July through Entertainment One.