July 14, 2014: This review has been updated from what was originally published on July 10.
Timor Leste is one of Australia's closest international neighbours. But despite its proximity, this young nation is an enigma to most Australians. A few of us may have seen Balibo late one night on ABC, or may remember reading news stories about the nation's independence in 1999, but our collective knowledge of this state is generally limited.
Luigi Acquisto and Bety Reis' A Guerra da Beatriz (Beatriz's War) won't necessarily give Australians the history textbook knowledge they might need, but it should spark an interest in those who see it. It follows the story of Beatriz and Tomas (Irim Tolentino and Jose da Costa), a young couple who grow up together in the midst of civil war. As they flee from one place to another, they are subject to intense brutality at the hands of the Indonesian military. Not long after the birth of his child, Tomas is captured by the Indonesians, but Beatriz clings onto the hope that he remains alive. What results is in an ending you won't be able to predict.
Without giving away any spoilers, Beatriz's War is a film for realists. Don't let the Beatriz-Tomas love story fool you – this is not a romantic film for young couples. Likewise, audiences won't be rushing to purchase flights to Timor Leste after this screening; the film paints a bleak picture of the country's past. Indeed, the greatest reality checks are evident in the scenes post independence. While optimistic audiences may expect this to be a breakthrough in the narrative, it isn't.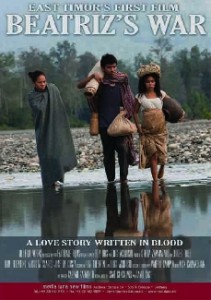 Aesthetically speaking, Beatriz's War is not a pretty film. As can be expected from a novice film industry and a low-budget feature, some of the acting and lighting is below international standard and the production values are low. But these characteristics only reinforce one of the film's take-home messages, that Timor Leste is making progress, but still has much room to grow.
That's not to say the film is without any positives. While Beatriz's War is an important reminder for aid-giving countries to not forget about Timor Leste, it also introduces its audience to a number of strong female leads. Beatriz's War empowers women far more than most Hollywood films, portraying even the most socially and politically powerless women as people of agency and strong wills. In doing so, it demonstrates how vulnerable people can be drivers of their own change and can pull their communities out of dire straits. And that may well be the first piece of the Timor Leste puzzle Australian audiences need.
Beatriz's War is in selected Australian cinemas from 10 June through FairTrade Films