A stage to screen adaptation is nothing unfamiliar to cinemagoers. Many musicals of the last forty years have made big splashes on the silver screen (think Chicago, Hairspray, Les Miserables) leading to stage revivals and boosted ticket sales thanks to their silver screen popularity. Then there are the flops. Sadly, Jersey Boys belongs to the latter group.
Chronicling the rise and fall and comeback of Frankie Valli and his band the Four Seasons, Jersey Boys begins in a New Jersey town in the 1950s.  Stardom and crime are interconnected quite strongly, and young Frankie Castelluccio (John Lloyd Young reprising his Tony Award winning role) is no exception. He runs with the wrong mafia crowd, but his saving grace is a golden and uniquely high-pitched voice that leads him to stardom. Through adversity, Frankie and his three fellow band members struggle, triumph and fall from grace and ultimate reunite to be inducted into the Rock and Roll Hall of Fame.
If this synopsis reads rather short and uninspired then it's a rather accurate reflection. Jersey Boys ties together a familiar story (a popular hit-maker's difficult and tumultuous past) with the hit songs that most audience members are likely to know. Often throughout the film, story and character development take a back seat while the songs play out to the delight of anyone who enjoyed Valli and the Four Seasons.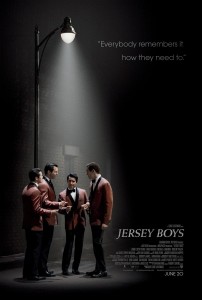 Jersey Boys feels only marginally adapted from it's stage production, with many moments and plot devices (the indulgently expository narrator) appearing out of place on the silver screen. In terms of length, some obvious cuts were made, but much to the detriment to the oftentimes sloppy storytelling. One scene in particular highlights Frankie's daughter's desires for stardom with dialogue that makes the audience think "did we miss a scene here…oh, that must have been one of the cuts from the stage show". The result leads to a disconnection with the story.
The biggest draw for the audience is that the songs in the film are sung live and they are sung extremely well. John Lloyd Young has a tremendous talent and shines particularly well during the musical numbers. The rest of the cast are perform well too during the musical numbers, but their rampant energy is left rather uncontrolled by director Clint Eastwood, leading to a jarring and over-the-top experience.
Hiring Eastwood as the director behind Jersey Boys was a risk that did not pay off. For a film that should be quite exciting and bustling with energy, Jersey Boys is all together lacklustre. No doubt Rob Marshall or Bill Condon or many other directors could have added the necessary life for this film adaptation, but with the slow-moving pacing and camera movement, Jersey Boys is a dull and limp film.
Jersey Boys is in Australian cinemas from 3 July through Roadshow Films.