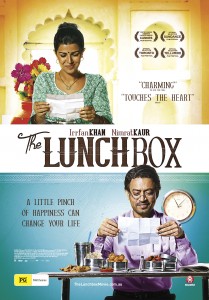 Courtesy of Madman Films, Film Blerg is giving away 5 double passes to see the critically acclaimed, charming and exotic Indian romantic drama THE LUNCHBOX, in cinemas from July 10.
Film Synopsis:  Ila, a neglected housewife, attempts to spice up her marriage by preparing a special lunch for her husband. When it is accidentally delivered to Saajan, a lonely widower on the brink of retirement, they exchange notes to each other to get to the bottom of the mistaken delivery. Their notes gradually evolve into a series of intimate little confessions about their loneliness, memories, regrets, fears and small joys. Still strangers physically, Ila and Saajan become swept up in a relationship built on the fantasy of their letters.
How to win:
Visit our Facebook page and hit the "SHARE" button on the THE LUNCHBOX status.
Write "Win a tickets to see the new exotic and romantic drama THE LUNCHBOX" in the write something section.
Send your name and address to giveaways@filmblerg.com with THE LUNCHBOX in the subject.
Competition opens 9am AEST Monday 30th June, 2014 and closes 5pm AEST Friday 4th July, 2014.
Terms and conditions
Passes are eligible only to Australian residents.
Film Blerg and the Madman Films cannot be held accountable for any delay or loss of prizes.
You must follow Film Blerg on Facebook or Twitter to be eligible.
Any information sent remains confidential.