After seeing eager fans waiting to board the Transformers ride at Universal Studios, Michael Bay decided he wasn't ready to give up on his metal-shredding robots. Running at a franchise-record 165 minutes, Bay's trademark shots are in abundance while daringness and originality still remain absent.
Set four years after Dark of the Moon, Bay throws Sam Witwicky and co. to the wayside and introduces us to Cade Yeager (Mark Wahlberg): a failing inventor trying to raise his 19-year old daughter, Tessa (Nicola Peltz), in an old Texan home. But after discovering that a rundown truck he bought is actually the wanted Optimus Prime, he soon finds himself, Tessa and her boyfriend, Shane (Jack Reynor) in a battle against the decepticons and a ruthless government official (Kelsey Grammer).
Disappointingly, Ehren Kruger's script lacks excitement and originality, mainly conforming the plot from the previous film around this one. Wahlberg does well with a weak script but inevitably his character is never developed, similarly with Peltz as Tessa. Stanley Tucci does a terrific job as the egotistic inventor, Joshua Joyce, supplying a large majority of the humour in a film with hardly any laughs. Composer Steve Jablonsky manages to produce an epic score, ultimately blanketing the absurdity of the Dinobots and blending comfortably with Bay's well-known fixation for pyrotechnics.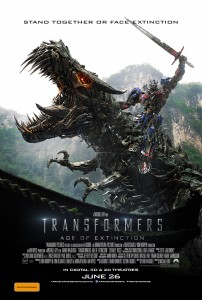 The film, like its predecessors, confirms Hollywood's growing commercialism. Expectedly, the film is smothered with popular Chinese counterparts in an obvious attempt to dominate the Asian box-office, with Dark of the Moon becoming the fourth highest grossing film in 2012. Even Ehren Kruger managers to stuff in the character of Su Yueming – a beautiful yet bland deputy of Joyce – played by Li Bingbing, who should feel familiar to the Asian demographic. Similarly to its predecessors, there are plenty of product placements to catch the audience's attention while extensive shots of Beijing and Hong Kong should please the Chinese market.
Like his previous film, Pain and Gain, the colour palette is distinctly Bay: an overexposed varnish with a tint of purple, which works nicely with the earlier scenes at the sunny Texan barn. Like always, the visual effects are sublime, with the 3D surprisingly fitting over the exhausting bot-battles and high aerial shots. But never does Age of Extinction feel like a leap forward. Besides Tucci, the characters are banal and underdeveloped while the plot feels like a remake of the previous film. There is still a handsome amount of big-budget explosions while Bay still remains obsessed with the low canted shot of people opening car doors. As Kelsey Grammer's character proclaims: 'The age of the Transformers is over.' Maybe he is right, but despite the lack of freshness, the film is in due time for the school break and should undoubtedly entertain young moviegoers who are familiar with the previous instalments.
Transformers: Age of Extinction is in Australian cinemas from June 25 through Paramount Pictures.