Haven't dragons just come roaring back into vogue lately? Smaug. Godzilla. Daenerys has three. Even the latest Bond flick (Skyfall) got into the act with a few Komodo Dragons. Although, for the kids, one suspects that a few just isn't enough. In this sense, the creators of How to Train Your Dragon 2 have the right idea when they deliver hundreds.
A few years on from where the last film left off, with the teetering cliff-top village of Berk now a dragon-friendly zone, Hiccup (voiced by Jay Baruchel) and his girlfriend Astrid (America Ferrera) have turned their attentions the exploration of new lands. It is when soaring high with his dragon Toothless that Hiccup feels most comfortable, and the expectations of his father Stoick (Gerard Butler) to succeed him as Chieftain don't sit overly comfortably. He is pretty weedy, after all, while Stoick is a great barrel-chested leader of men. Also an American accent doesn't sound quite as fitting as a Scottish one, but that's neither here nor there.
When Hiccup and Astrid are almost captured on one of their journeys by a dragon trapper called Eret (Kit Harrington), they hear word of a mysterious dragon hunter called Drago Bludvist (Djimon Hounsou) who is apparently amassing an army, one that threatens to plunge their world into danger once again.
Throw in a reclusive dragon master and a few colossal alpha-dragons chundering not fire but glaciers, and there's more than enough excitement to be going on with.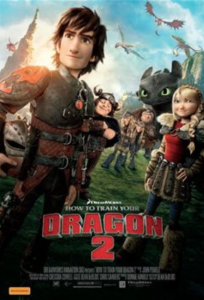 If the first film was the battle, this is the war and as far as sequels go, Hiccup's clattering return to the screen is a refreshing joy. Most obvious is the increase in scale. DreamWorks and director/writer Dean DeBlois have gone big in adapting Cressida Cowell's book series, and if you've seen the Dreamworks exhibition at ACMI recently, the detail is all the more astounding. You can tell they know they're on a winner, and the great tusked alpha-dragons are magnetic creations.
While this film is comparatively darker than its predecessor due to a genuinely fierce villain (always handy), the threat of war is tactfully handled for a young audience, with healthy doses of comedy sprinkled throughout even the direst of circumstances. Perhaps there aren't quite as many laughs for mature audiences as recent films from rival studios, and not all jokes are pulled off, but with some spectacularly realised action and an acute eye for detail and movement, there's no danger of tedium.
Perhaps most impressively, the film is strengthened by an emotional depth that few animated films can boast. Resisting the urge to stray too into the saccharine and benefiting from a strong voicecast, which also contains Cate Blanchett and Late Late Show host Craig Ferguson, scenes of reconciliation and loss are poignant and the characters again natural and relatable.
This may not be DreamWorks' best but it's up there, and all signs point to a thrilling third.
How to Train Your Dragon 2 is in Australian cinemas from June 19 through 20th Century Fox.