In this eccentric comedy, Jon (Domhnall Gleeson), a struggling musician, joins a weird music band led by Frank (Michael Fassbender): a man who always wears an expressionless Papier-Mâché mask, even in the shower. But as the band struggles to find a creative balance, Jon soon realises he is tearing them apart rather then helping them to achieve their musical endeavours.
Undoubtedly and ironically, Fassbender gives a leading performance as the enigmatic Frank, mostly due to the strangely humorous screenplay by Jon Ronson (The Men Who Stare at Goats) and Peter Straughan (Tinker Tailor Soldier Spy). Director Lenny Abrahamson (What Richard Did) develops Frank as a very likable and innocent character who accepts creative liberties and ultimately encourages them. Every line of dialogue from Frank is amusing and unpredictable, adding some much needed lightness to the bleak atmosphere of the band. Maggie Gyllenhaal is solid as Frank's vicious sidekick with Domhnall Gleeson delivering a strong performance as a wannabe musician while also being the only source of normality in the film. However, due to Abrahamson's strange vision, the film becomes at times rather directionless and divided, with its hasty transition from the quixotic cabin in the woods to the urban scene of South By Southwest. Perhaps this is a necessary contrast; however, it does not allow for as much humour compared to its previous scenes.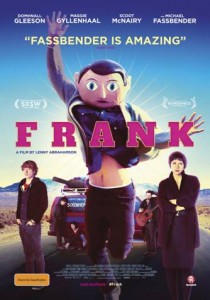 But behind the humour, Frank gives us an expected meaningless view of the rock star dream and the difficult task of producing original and 'likeable' music. Within that, Abrahamson also highlights the dangerous effects of obsession and our desire to often become the people who inspire us or have something we do not. However, the film's real downfall is in its third act. Abrahamson builds the story with originality and quirkiness before letting down proceedings through rather conventional storytelling. As most comedies do towards the end, the film turns humour into drama, but as a consequence, Frank especially, loses the hilarious one-liners and turns into a depressive and somewhat uninteresting character.
Although the film plummets in the third act, there is much to enjoy within this quirky comedy. The humour is effective and the acting is solid while Fassbender's Papier-Mâché character supplies plenty of laughs to be satisfied. But ultimately, it feels that Abrahamson is only giving us a very real insight into the rock 'n' roll dream: the ambition for greatness and the adversities that come with it.
Frank is in Australian cinemas from 19 June through Madman Films