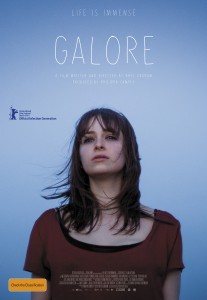 Courtesy of Entertainment One, Film Blerg is giving away 5 double passes to see the new Australian film GALORE, in cinemas from June 19.
Film Synopsis: It's a sweltering summer before the final year of school. Best friends Billie (Ashleigh Cummings, Puberty Blues) and Laura (Lily Sullivan, Camp) share every secret, except one – Billie is crazy in love and sleeping with Laura's boyfriend Danny. When Billie's social worker mum takes in Isaac, a troubled teen looking to get his life straight, the delicate balance of the three friends' lives is disrupted. The four teenagers immerse themselves in a swirl of parties, possible love, sex and desire – until secrets are revealed and their lives are thrown into chaos. Visually stunning, Rhys Graham's debut feature captures the world of teenage suburbia with a sensuous and vivid intensity; a world where adults are exiled to the outer margins. Evoking the burning energy of adolescent rebellion against small-town inertia, Galore is an intimate and hauntingly beautiful coming-of-age story of love, loss, and betrayal.
How to win:
Visit our Facebook page and hit the "SHARE" button on the GALORE status.
Write "Win a tickets to see the new Australian film GALORE" in the write something section.
Send your name and address to giveaways@filmblerg.com with GALORE in the subject.
Competition opens 9am AEST Monday 9th June, 2014 and closes 5pm AEST Friday 13th June, 2014.
Terms and conditions
Passes are eligible only to Australian residents.
Film Blerg and the Entertainment One cannot be held accountable for any delay or loss of prizes.
You must follow Film Blerg on Facebook or Twitter to be eligible.
Any information sent remains confidential.