"If you can't live with love and in love and keep your love going for people regardless of what's going on, it's not worth it."
We could all learn a lot from 90-year-old Sister Loyola Galvin, the gardener at the Home of Compassion and all round optimist, who is constantly caring for those around her, whether they're humans or plants. Nurturing life in all it's forms, she starts out by telling us that if everyone in New Zealand had a shed, there would be no domestic violence.
While the analogy might be a little exaggerated, the sentiment is spot on. Very family and community oriented, Sister Loyola views gardening as an act of sharing. She's had a very long and fulfilling life, from growing up on a farm idolising her father to losing her young love in the war, consequently turning to religion which has helped her through some challenging times.
This film is warm and incredibly understated. Its subject is well versed in a range of different topics and provides endless insight during the year that New Zealand filmmaker Jess Feast follows her around her garden. She believes life is all about making the best with what you've got, and this is really simple living at its finest.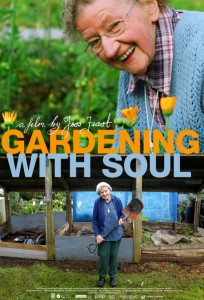 While she has undoubtedly gone through some excruciatingly difficult times in her life, Sister Loyola tells us "unless you're questioning, you're not moving forward", and it is wise words such as these which make it crystal clear as to why she has such a sharp mind at the age of 90. She is an inspiration to everyone around her, as well as a constant source of love and compassion.
Gardening With Soul is undoubtedly a slow burner. It's not fast paced, but it is packed full of action, if you are patient enough to let it unfold before you. Sister Loyola admits her body is telling her she can't do everything she used to, but she is certainly not letting that stop her from getting out of bed and living her life to the fullest every day.
There is no false hope or idealism in this film, just love, kindness and a positive outlook on life. There is a lot to learn here, this beautiful character study is very engaging and will no doubt leave you with the warm and fuzzies.
Gardening With Soul is in limited release in Australian cinemas from 29 May through Hi Gloss Entertainment.