Set in early 1960's Poland, Ida tells the story of an orphaned young novitiate nun, Anna (Agata Tzrebuchowska), who just before taking her vows discovers that she is Jewish when she meets her aunt and only living relative, Wanda (Agata Kulesza), an alcoholic judge, who tells her that her parents were killed during the German occupation. Together they set off on a road trip to find the answer of what happened to them and Anna's religious devotion is put to the test by exposure to the world so long denied her by the Catholic orphanage she was raised in.
Acclaimed director/co-writer Pawel Pawlikowski (who made the coming of age tale My Summer of Love and more recently the Ethan Hawke starring The Woman in the Fifth) has crafted a film lovingly styled on the classics of the Polish and Eastern European New Waves. Shooting in black and white, he has also chosen to film in the now defunct square 1.37:1 ratio which he uses to compose stark and haunting images that perfectly suit the tone of the film. Often resembling photographs of the period, the cinematography is exquisite throughout and is one of the films major drawing points.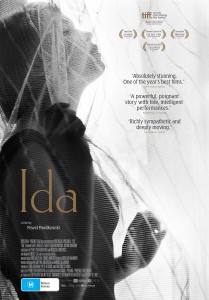 Less satisfying is the bleak narrative itself, especially a third act which draws on long after the real story of the film – the road trip – ends. Co-written with Rebecca Lenkiewicz, the characters are fascinating and vividly realized by their respective actresses, but all the good work they accomplish in the first hour of the film amounts to very little in the final twenty minutes which sees all of their choices undone with some questionable character motivations.
Despite a short running length of only 80 minutes, Ida is an overlong work that while emotionally gripping in its high points, is particularly frustrating in its conclusion.
Ida is in Australian cinemas from 22 May through Curious Distribution.