Healing is the story of Viktor Khadem (Don Haney), who near the end of a sixteen year jail sentence is sent to a low security prison where under the eye of a compassionate prison guard (Hugo Weaving) he is put in charge of a program that helps care for injured bird's in conjunction with the Healsville Sanctuary. He takes a particular shine for a wounded wedge tail eagle named Yasmine who the two men rescue one day during field work. Together, Yasmine and Viktor prepare for their eventual releases from captivity and deal with the issues of returning to their natural habitats.
Following their successful collaborations on The Interview and Peaches, Weaving reunites with co-writer/director Craig Monahan for this touching drama that like the best prison films, treats its prisoner characters as genuine, though flawed, real people, and examines their situation thoughtfully.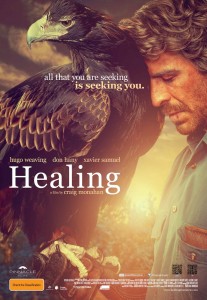 The acting is uniformly excellent. Weaving, as you would expect by this point, gives a heartfelt performance as the guard who genuinely believes in the prisoners ability to better themselves, and Xavier Samuel once again follows up on the promise he's been consistently establishing in the likes of Adoration and The Loved Ones, amongst others. The (until now) underutilized Don Haney, who seems to have been mostly confined to television, is however the beating heart and soul of the film. His portrayal as the conflicted and damaged Viktor is perfect; a work of true subtly that completely avoids any all too easy manipulation.
The film boats gorgeous wide screen cinematography by Andrew Lesnie of its picturesque locations, and the music by David Hirschfelder accompanies the drama perfectly. The only flaw in an otherwise great film is the screenplay by Monahan and Alison Nisselle, whose dialogue at times labors the metaphor of the birds representing the plight of the prisoners to frustrating degrees. Their story, though well told, also can't support a two hour running time, and runs out of steam long before the closing credits ─ an issue not helped by a series of fade outs.
Issues of narrative and dialogue aside, Healing is an emotionally gripping film that will hopefully find the receptive audience it deserves.
Healing is in Australian cinemas from 8 May through Pinnacle Films.