In episode one of Fargo we met similar stand-in characters for ones from the film Fargo is based on, including Lester Nygard (William H. Macy stand-in) and Molly the policewoman (Frances McDormand stand-in). In the opening of episode two we meet two men from the town of Fargo, including a deaf man who communicates with his partner using sign language. These are obvious criminal heavies who are modelled on the two assassins from the film played by Steve Buscemi and Peter Stormare. They are on the hunt for the killer of trucking magnate Sam Hess, who we know to be Billy Bob Thornton's enigmatic character.
At the wake for his murdered wife Lester is offered a place to stay with his younger brother and his family. At first Lester seems confused at the suggestion that he shouldn't go back home, but his brother insists that the police left quite a mess looking for evidence. Lester returns to the bloody scene of the double homicide of both his wife and the police chief Vern, and we are reminded of exactly what took place with a few brief flashbacks to the crimes. The scenes featuring Lester in this episode basically deal with him coming to terms with the murder of his wife, and trying to dodge police questioning. At one point he smells his wife's clothes in their bedroom, and begins to break down in tears. He is interrupted by the arrival of the police, however.
The police chief Vern's prediction in the first episode that Molly would make a fine successor for him, compared to the incompetent Bill (Bob Odenkirk – Breaking Bad's Saul Goodman) seems to be proven correct in this episode. Throughout we see examples of Molly's dedication to her profession and her strength of character. At the wake for her fallen mentor, Vern's wife explains that she ultimately believes that her husband died due to chance: to pure bad luck. Molly however is not so sure, and believes Lester must somehow be connected to the multiple murders that took place over such a short time. She doesn't believe in coincidences, and this puts Molly at loggerheads with her new boss.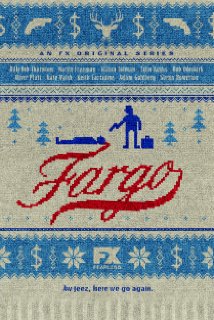 Bill went to high school with Lester, and is resistant when Molly wants to question Lester further about the case. Molly is wise enough to see Lester's desperation and suspiciousness, while Bill is happy to blame the crimes on "drifters or bands of drifters" and spare Lester from rigorous interrogation after the death of his wife. Molly's father Lou (Keith Carradine) owns a coffee shop, and councils his daughter about the case. He knows that his daughter is on the right track regarding Lester and can see that "what [Bill] lacks in common sense he makes up for in self esteem". Lou warns his daughter about the "savagery, hatred and slaughter" involved in the case, and suggests that one day she will want to have kids and must be able to show them "what's good in the world". He seems to be implying that he doesn't totally support Molly's choice of career and wants to make sure she is safe. Bill eventually takes Molly off the case when Lester complains to him about being harassed by her questions. Bill says that as he is the new chief, "everyone's gotta line up behind me now".
In the episode we are also introduced to a sub-plot featuring character actor Oliver Platt as a supermarket baron who has hired Billy Bob Thornton to find the person responsible for blackmailing him. Some amusing scenes with Thornton are again the highlights of the episode, including interesting moments at a post office and in a hotel room with an ex boxer. The scenes featuring the two men from Fargo searching for the Thornton character are also played for laughs, in a definite black humour style. The funniest is when the men come across a man in the strip club where Sam Hess was murdered who is basically the doppelganger of the Thornton character, bowl-cut and all. Everything the man says to the two heavies is ill-advised, including showing them his knife to try and intimidate them. They happen to be looking for a man fitting his exact description carrying a knife. At the end of the episode, though they have already learnt that he is not their man, they still tie him up and throw him into a hole they cut in an iced-over lake. Fargo is the type of show where, like the movie, a moment like this murder is both menacing and darkly funny at the same time.
Fargo airs Thursday nights on SBS1. See more episode recaps here.