The latest feature film as director from notable character actor John Turturro, following his acclaimed previous drama Romance and Cigarettes, Fading Gigolo is the rare comedy that aspires to lofty heights of the greatness of the Woody Allen film (at this point a genre of its own) ─ and succeeds entirely. What's more, it features a rare performance from the great man himself outside one of his own films, and it's his best in years.
Allen plays Murray, a typical Woody Allen character if ever there was one. He has just closed up the rare bookstore he's been running for the last thirty years and finds himself needing to make some extra cash on the side. When he hears that his dermatologist (Sharon Stone) is looking for a male prostitute to join her and her girlfriend (Sofia Vergara) in a ménage á trois, he sees an opportunity and approaches his younger friend Fioravante (played by Turturro) ─ a sensitive bachelor with his fair share of experience with women and also in his own financial dire straits ─ with the idea that he become a gigolo with him as his pimp. Barely able to make ends meet, he accepts and business booms until Murray sets him up with a widowed Hassidic woman, Avigal (Vanessa Paradis), who makes him reconsider his new profession.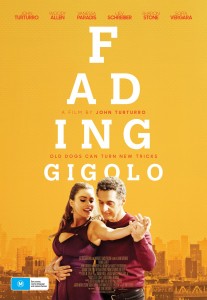 It is a rare criticism to make of a movie, but the only flaw with Fading Gigolo is that it's much too short, feeling more like whimsical and amusing novella instead of the rich and wonderful novel you really want it to be. Turturro sets up his story and characters so well that it's only when he asks you to really invest in them that you realize you barely know who they are and you can only really care for them on a surface level. The tone suffers as well from the brevity, bouncing between comedy and drama, but when each is this good on its own, it becomes an extremely minor criticism that they don't quite gel. He does however create a wonderfully textured world for them film, which though set in New York, becomes its own special place, especially with Marco Pontecorvo's gorgeous cinematography. His exploration of the Hassidic community is at once amusing and steeped in interesting culture and tradition.
Featuring fine performances from a strong cast, Fading Gigolo is an amusing and touching work that despite the problems arising from its briefness is an exceptionally good film.
Fading Gigolo is in Australian cinemas from 1 May through Transmission Films.