In the last few decades we have witnessed significant advancements in biotechnology and artificial intelligence, but this has been met with staunch resistance from people who view such 'progress' as a threat to humanity. These opposing ideas are explored in Transcendence, Wally Pfister's directorial debut. Known for his atmospheric cinematography on many of Christopher Nolan's films (including The Dark Knight trilogy), Pfister similarly imbues the film with a sleek visual style, and Jack Paglen's screenplay grapples with several troubling ideas about our increasing entangling with technology. However, Pfister seems to lose control of an increasingly incoherent and implausible plot as it unfolds, detracting from the film's thematic power.
Dr Will Caster (Johnny Depp) is at the forefront of artificial intelligence research, and along with his wife Evelyn (Rebecca Hall) and best friend Max Waters (Paul Bettany) is on the cusp of creating a sentient, self-aware entity capable of autonomously expanding its own intelligence. However, a terrorist network, headed by Bree (Kate Mara), remains deeply fearful of these new possibilities, and they launch a coordinated attack on A.I. research groups, fatally wounding Will. However, when a way is found to preserve Will's mind as an artificially intelligent entity, the boundaries between human and machine, and between the possible and impossible, are suddenly and irrevocably dissolved.
The film explores many ideas that will inevitably become pressing as we continue to push technological boundaries, striving for medical breakthroughs whilst also inadvertently posing challenging ethical and moral questions. The reduction of consciousness and the human mind, to, essentially, data – cellular, neurological, genetic – is undoubtedly unsettling. Ultimately, it redefines what it means to be human in confronting new ways.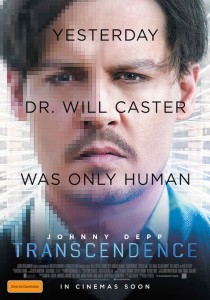 However, where the film loses impact is in its plot. Whilst the first half is solid and involving, due in large part to Hall's emotionally moving performance, the second half seems to spiral into increasingly dubious depths, outlining scenarios that transcend logic. Ironically, the cumulative effect is to undermine the film's intriguing initial premise, that of creating a wholly artificially intelligent being. Overall, it is not as thrilling as it could have been, and even a drumming, pulsating score, which often works so well in many of Nolan's films, does not create a sustained, palpable sense of suspense.
Transcendence is in many ways thought-provoking, even scary, in its implications. It features strong performances throughout, and it's refreshing to see Johnny Depp without heavy eyeliner as a recognizably 'normal' character (even if that character eventually becomes uploaded onto a computer). And it certainly is ambitious. However, it ultimately becomes unravelled by progressively bewildering turns in its plot, which dilute its ideas and reduce their potency.
Transcendence is in Australian cinemas from 24 April through Roadshow Films.