After discovering that her current boyfriend Mark (Nikolaj Coster-Waldau) is married, Carly (Cameron Diaz) begins an unlikely relationship with Mark's wife, Kate (Leslie Mann). But after they discover he is having another affair with Amber (Kate Upton), the three women team up and plot a plan to get revenge on their fickle lover.
It is hard to believe a film like this could ever get made. The acting trio in the film is abominable and purely there for commercial attraction and looks. Cameron Diaz is watchable but is really let down by saggy dialogue. Leslie Mann is truly an annoying and detrimental presence in the film and Kate Upton mostly walks around smiling but rarely talking for obvious reasons. It is hard to imagine that the director of The Notebook, Nick Cassavetes, could make a film as shallow and fruitless as this. The film also reinforces Hollywood's growing insecurity and need for conservative yet unoriginal content. The script by newcomer, Melissa Stack, is highly predictable and careless, which mostly embodies the premise of the 2006 film, John Tucker Must Die.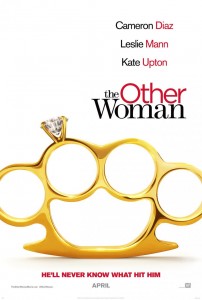 We never sympathise with the three central ladies, especially Kate, who's whining and pestering is so ersatz that it has the complete opposite effect on the audience. Ironically, out of everyone in the film it is Mark, the deceitful womaniser, that we pity most, which just shows how confused Cassavetes was in his own vision – if any. Even the relationship between Carly and Kate's brother, Phil (Taylor Kinney) is unbelievable and is never really developed as a major subplot.

Clearly, both Melissa Slack and Nick Cassavetes have cared little to support their characters. If they don't care, why should we? Overall, The Other Woman is stripped of any depth or humour. The jokes are terrible and the story is standstill until the last 20 minutes, where the trio actually start implementing a plan to get revenge. Ultimately, The Other Woman's 99-minute duration feels more like 200 and will surely leave audiences members with a disappointed and unfulfilled aftertaste.
The Other Woman is in Australian cinemas from 24 March through 20th Century Fox.